The most radioactive place in New York City is underneath an unassuming auto shop in Ridgewood, Queens.
On Thursday, The Environmental Protection Agency designated the three quarters of an acre in and around Primo's Flat Fix as a federal Superfund site, adding it to the program that cleans up the nation's "uncontrolled" hazardous waste sites.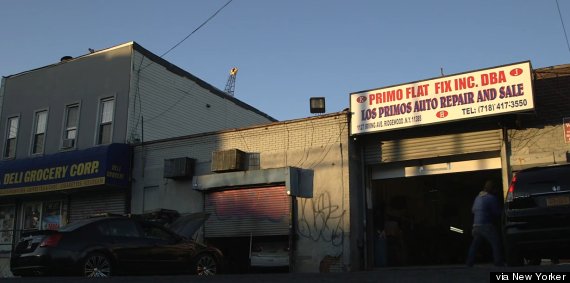 Primo's Flat Flix, near the corner of Cooper and Irving Avenues, sits on the former location of the Wolff-Alport Chemical Company. In the 1940s and '50s, Wolff-Alport extracted rare earth metals from monazite sand. Monazite sand contains thorium, which is radioactive.
For seven years, the company buried radioactive thorium in the soil or dumped it into nearby sewers. In 1947, the Atomic Energy Commission started to regularly buy thorium from the Queens company. Thorium was used in nuclear weapons tested in Nevada in 1955.
"By placing the Wolff-Alport Chemical Company site on the Superfund list, the EPA can address the contamination to protect people's health in the long-term," Judith A. Enck, EPA Regional Administrator, said in a statement.
Enck added that the higher levels of radiation at the site pose no immediate threat to workers at Primos, or to nearby residents.
However, as The New Yorker points out in the in-depth video above -- and in this interactive feature -- workers at Primo's are exposed to three times the recommended dose of radiation over the course of the year. That's equivalent to the radiation from about 30 chest x-rays.
The planning phase for the site's cleanup will take years. It's unclear how the site's Superfund designation and cleanup will affect Primo's and other nearby businesses.
While the Wolff-Alport Company no longer exists, the EPA is investigating whether there is a company that could bear some responsibility for the cleanup costs.
There are only two other Superfund sites in New York City: the Gowanus Canal and Newtown Creek.