If you don't feel comfortable walking in sky-high stilettos, beauty and style expert Bobbie Thomas has a handful of helpful suggestions for practical, comfortable alternatives.
Bobbie is a big fan of flats, a footwear option that is both comfortable and cute for work or play.
"There are so many beautiful flats today because women have demanded comfort," she explained.
When she's not perusing new look-books from major brands or designers, Bobbie loves going to discount department stores like Nordstrom Rack to see what seasonal styles are on sale. "You might as well buy them at 30% off!" she said.
For sandals, Bobbie recommends finding a strappy, gladiator-inspired sandal or wedge this season with proper ankle support.
"You really need that ankle strap for support if you're running around on errands," she told us.
For more of Bobbie's fashion and beauty tips, view the slideshow below:
PHOTO GALLERY
Beauty & Style Tips from Bobbie Thomas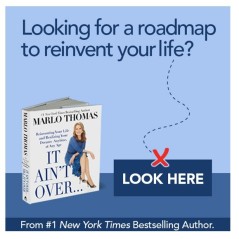 Add Marlo On Facebook:
Follow Marlo on Twitter:
Sign up to receive my email newsletter each week - It will keep you up-to-date on upcoming articles, Mondays with Marlo guests, videos, and more!