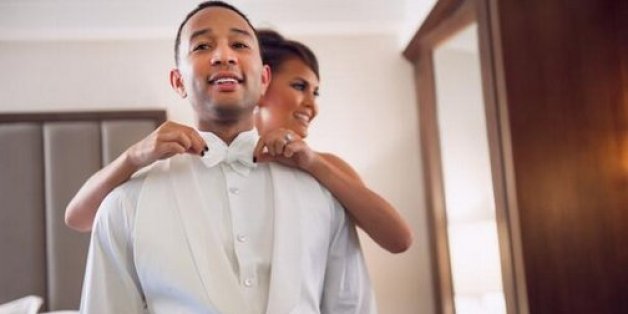 So the 2014 Met Ball was this past Monday and it was pretty much the best day ever. Not only were all our favorite stars in attendance (and dressed to perfection), but our Twitter feeds were going crazy. In a good way.
This year, there was no live stream of the event, which meant the Internet essentially exploded as soon as the red carpet started. And if you're anything like us, you love the thrill of a good live-tweeting session and that's pretty much what happened for a good four hours.
So, in case you missed it, here were all the tweets and twitpics we were obsessing over during the Met Ball.
Sign of a good night! X vb #MetGala #CharlesJames pic.twitter.com/16ereUM36I

— Victoria Beckham (@victoriabeckham) May 6, 2014
the met gala is mad boring when it's not punk-themed, just sayin'

— Lauren Leibowitz (@lleibowitzz) May 6, 2014
Poor Lupita Nyong'o, she got stuck in a net. Somebody call the fishermen! #MetGala #FauxPaw pic.twitter.com/Yev0oQDIMD

— Choupette Lagerfeld (@ChoupettesDiary) May 6, 2014
I would like to wear my hair like this all summer. #MetGala pic.twitter.com/wR4Ambl2PD

— Abby Gardner (@abbygardner) May 6, 2014
And with a beard! RT @HuffPostStyle Bradley Cooper in Tom Ford trying to (unsuccessfully) avoid the press #metgala pic.twitter.com/SXwMzro6Ui

— Yahoo Shine (@YahooShine) May 5, 2014
From the sweetest prep pix to celeb encounters, don't miss @IvankaTrump's #metgala diary. http://t.co/oe6f0XinKO pic.twitter.com/XrsQRerdZA

— People StyleWatch (@StyleWatchMag) May 8, 2014
SO on board RT @HuffPostStyle: K we might be getting on board with them theme #metgala pic.twitter.com/U1bgcj1nAE

— Marie Claire (@marieclaire) May 5, 2014
What's happening. #MetGala #GUAC pic.twitter.com/ioeGBGJzz1

— Megan Mayer (@Megan_Mayer) May 6, 2014
"Pretending I had anything to do with this bow tie." @chrissyteigen @johnlegend #MetGala http://t.co/lI6zxqvAgP pic.twitter.com/g9T5LXCFLX

— Vogue Magazine (@voguemagazine) May 7, 2014
Thank you Anna Wintour & @voguemagazine for having us #MetGala we had a wonderful time! x vb http://t.co/E2Cmo25ssa pic.twitter.com/mjynygjYWe

— Victoria Beckham (@victoriabeckham) May 6, 2014
Thank you @OscarPRGirl for an incredible evening at the #MetGala! pic.twitter.com/QAV00zro1A

— Karlie Kloss (@karliekloss) May 7, 2014
The Best Looks from the 2014 #MetGala: http://t.co/7HKZzZhOEW pic.twitter.com/kR24OlpCnI

— W magazine (@wmag) May 7, 2014
Go inside the #MetGala's (unofficial) after-party: http://t.co/cBEBtdB1kO pic.twitter.com/ErHTrJ6ojZ

— Vogue Magazine (@voguemagazine) May 6, 2014
Michelle Williams in custom #LouisVuitton at last night's #MetGala. pic.twitter.com/3Hn0MF9rrR

— Louis Vuitton (@LouisVuitton) May 6, 2014
BEFORE YOU GO
PHOTO GALLERY
Met Gala 2014 Red Carpet Arrivals