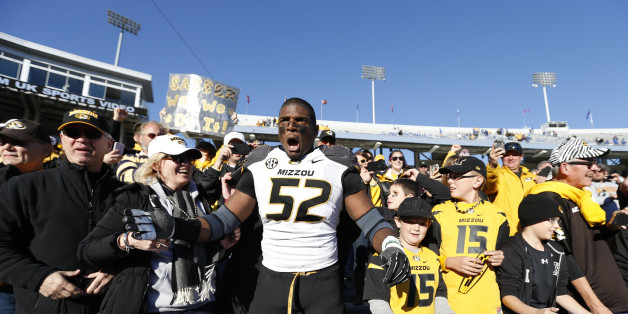 Michael Sam has reached the NFL. The NFL has reached out to Michael Sam. Both milestones made American sports history.
The first-team All-American defensive lineman from the University of Missouri became the first openly gay player ever drafted into the NFL when the St. Louis Rams selected him with the 249th pick in the seventh round of the 2014 draft. Sam, the 2013 SEC Co-Defensive Player of the Year, waited until the eighth-to-last selection to hear his name called at Radio City Music Hall in New York City on Saturday.
With the 249th pick in the #NFLDraft, the #RamsDraft @Mizzou defensive end Michael Sam! pic.twitter.com/MotuIuNrW2

— St. Louis Rams (@STLouisRams) May 10, 2014
In a powerful scene broadcast by ESPN after his selection was announced, Sam could be seen overcome with emotion as he received a phone call from Rams coach Jeff Fisher. As he celebrated the historic moment, Sam shared an embrace and kiss with his boyfriend.
(STORY CONTINUES BELOW)
WATCH: Michael Sam Reacts To Being Drafted By The Rams
The 24-year-old from Hitchcock, Texas announced that he was gay in February in interviews with The New York Times and ESPN. He told both media outlets that he came out to his teammates during a preseason football practice before the Tigers' 2013 campaign. Sam went on to lead the SEC in sacks (11.5) and tackles for a loss (19) as Missouri roared to a 12-2 record.
"I understand how big this is," Sam told ESPN in February. "It's a big deal. No one has done this before. And it's kind of a nervous process, but I know what I want to be ... I want to be a football player in the NFL."
Listed at at 6' 2" and 261 pounds, Sam's draft stock took a hit after a lackluster performance in the drills at the NFL Scouting Combine, including the 40-yard dash, vertical leap and bench press. He improved upon his performances during a subsequent workout at Missouri but concerns about his size, strength and true NFL position persisted as the draft approached. As the third day of the draft progressed, many following along on Twitter worried that his size and speed weren't the only things keeping him from being drafted earlier.
Looks like being open about his sexuality was a costly decision for Sam. Disheartening. Hope I'm wrong.

— Jane McManus (@janesports) May 10, 2014
Michael Sam still not drafted? Clearly teams are worried about the fact a gay player terrifies them... I mean his intangibles.

— Chris Kluwe (@ChrisWarcraft) May 10, 2014
This is not good with Michael Sam. Not good at all. He deserved to be drafted much earlier than this.

— mike freeman (@mikefreemanNFL) May 10, 2014
I'm absolutely surprised that the SEC defensive player of the year is still not drafted!!!!!!! Are you kidding... http://t.co/FwWsviDFWt

— Esera Tuaolo (@eseratuaolo) May 10, 2014
Whether or not other teams passed on Sam for reasons other than football, the Rams potentially secured one of the best values of the draft by landing such an accomplished player so late. Before Sam was selected in the seventh round, only one other SEC Defensive Player of the Year had failed to be selected by the 33rd overall selection. The award was first bestowed upon LSU's Chad Lavalais in 2003 and he was selected with the 142nd overall pick in the fifth round of the 2004 draft.
"Mike is going to come in here," Fisher told ESPN's Suzy Kolber after the draft concluded. "He's a good football player and that's the bottom line."

Once the Rams, who were also the team to break the NFL's modern-era color barrier in 1946, selected Sam, several players already on the team were among those offering their support on Twitter.
Welcome to #STL @MikeSamFootball !! Teammates again.

— T.J. Moe (@TJMoe28) May 10, 2014
Welcome to the squad @MikeSamFootball #D-LineShowtime

— Robert Quinn (@RQuinn94) May 10, 2014
Football is all about making plays, welcome to the Squad @MikeSamFootball Rams Nation accept you for who you are... #ShowTime

— J.Jenkz (@JjenkzLockdown) May 10, 2014
S/O to @MikeSamFootball congratulations to the SEC Defensive player of the year, 1st team All SEC .. an All American.. It's just football..

— Benny Cunningham (@BCunningham36) May 10, 2014
Sam's milestone selection in the NFL draft was the latest historic moment for a gay athlete. In February, Brooklyn Nets center Jason Collins became the first openly gay player in NBA history. In May 2013, Los Angeles Galaxy midfielder Robbie Rogers became the first openly gay player in MLS history. In 2014, Sam could become the first openly gay athlete to play in an NFL game.
"Without a doubt, this is a game changer," GLAAD President & CEO Sarah Kate Ellis said in a statement. "Today, Michael Sam has redefined what it takes to be a champion. He's tackled stereotypes and joins the ranks of athletic trailblazers like Jason Collins and Brittney Griner in showing Americans that there's no place for homophobia on the field. As support for equality continues to surge, it's clear that sports fans are ready, football is ready, and America is ready for its first openly gay NFL player."
In his first tweet after being drafted, Sam pledged to make the most of his opportunity.
Thank you to the St. Louis Rams and the whole city of St. Louis. I'm using every once of this to achieve greatness!! pic.twitter.com/QESdOJVzsw

— Michael Sam (@MikeSamFootball) May 10, 2014
BEFORE YOU GO