We all struggle with under-eye circles and puffiness, but beauty and style expert Bobbie Thomas gave us some insider tricks to keep them in check.
"Most importantly, sleep and drink water!" Bobbie urged.
When it comes to choosing the correct concealer to hide under-eye shadows and imperfections, Bobbie had a few counter-intuitive tips.
"In order to cover capillaries or veins under your eyes, you need to use a concealer that is actually salmon-hued or a shade slightly darker than your natural skin tone," she said. A darker-hued concealer as a base will actually better cover those veins than a lighter colored product.
"Trace the vein and color in the dark area. Use the dark first to cover the vein, then blot and blend with your finger. Set the concealer with a light, white powder," Bobbie told us.
Another youthful tip: when applying the white powder, use a triangle shaped brush underneath your eyes to draw light and attention upwards.
A concealer brand Bobbie loves is Glo Minerals, which has a combination concealer compact with both a dark and lighter shade, ideal for covering those pesky under-eye imperfections.
For more of Bobbie's fashion and beauty tips, view the slideshow below:
PHOTO GALLERY
Beauty & Style Tips from Bobbie Thomas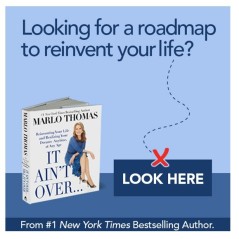 Add Marlo On Facebook:
Follow Marlo on Twitter:
Sign up to receive my email newsletter each week - It will keep you up-to-date on upcoming articles, Mondays with Marlo guests, videos, and more!
Sign up here
Tips And Tricks For Summer Legs