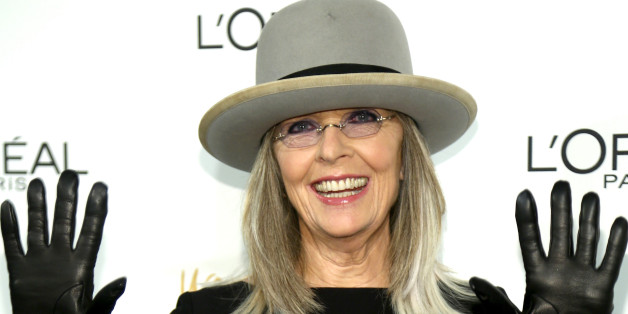 Oscar-winning actress Diane Keaton's new memoir, Let's Just Say It Wasn't Pretty, among other things, tackles her insecurities about aging. The 68-year-old actress, with her trademark look of baggy clothes -- the original body concealing look -- a bowler hat and oversized glasses, writes how she frets about aging, thinning hair and drooping eyes.
"They keep falling down. It's like the weirdest shaped eyes," she told NPR. "I have also a hair fixation. I frequently have to tell myself, you're not allowed to wear your hat today."
Keaton, who came into the public eye with her Oscar-winning performance in "Annie Hall," remains one of the few actresses her age who continues to get marquis roles in movies -- and who hasn't had any plastic surgery done. In her book, she talks about once trying to reshape her nose with a clothespin, but unlike many of her Hollywood peers, has had no plastic surgery on her face. "No. I haven't done that," she says. "But I could and I might, but at this point, it might be a little too late."
In her book, Keaton concludes that imperfections are beautiful. "I feel like wrong can be right in a lot of ways," she says. "So all those things you're disappointed with in yourself can work for you." And the shape of her eyes, she writes, is something she has in common with her father, she told NPR.
Keaton has had starring roles with Jack Nicholson, Robert De Niro and, this summer, Michael Douglas.
BEFORE YOU GO
PHOTO GALLERY
25 Celebrities Who Are Aging Gracefully