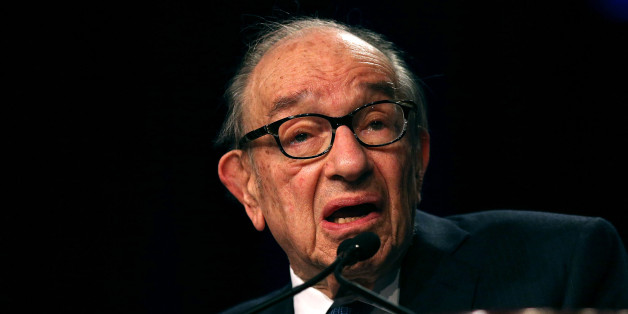 WASHINGTON -- Former Federal Reserve Chairman Alan Greenspan said Wednesday that JPMorgan Chase is too big to fail and that supersized Wall Street banks are clouding the federal government's budget outlook.
Speaking at billionaire Peter G. Peterson's annual fiscal summit in Washington, Greenspan recalled his own tenure at JPMorgan before he went to the Fed, saying the company experienced a few "London Whales" -- sharp, significant losses that took the bank by surprise. In Greenspan's day, he said, such troubles were issues for the bank's management and directors to sort out among themselves. But when JPMorgan lost over $6 billion on its London Whale trade in 2012, the fallout was very different.
"Today you have that sort of thing and Jamie Dimon has to come before Congress," Greenspan said, referring to JPMorgan's CEO. "JPMorgan is a Fannie Mae/Freddie Mac-type institution because they are, indeed, too big to fail."
Greenspan said that current calculations of the federal government's budget deficit and fiscal outlook understate the risk of long-term trouble, because they do not take into account such "contingent liabilities" as the risk of a major Wall Street bank collapsing.
Typically, deficit hawks invoke the phrase "contingent liabilities" to call for cuts to Social Security and Medicare, arguing that official government accounting understates the long-term taxpayer costs of such programs. But Greenspan didn't make a hard pitch on entitlement cuts, focusing instead on the risk of bank bailouts.
"The safest thing politically to do is always to bail out somebody," Greenspan said. "This is fundamentally different than it was."
A JPMorgan spokesperson was not immediately available to comment.
BEFORE YOU GO
PHOTO GALLERY
U.S. Capitol Photos