In an inspiring (and meta) move, ardent education activist Malala Yousafzai will donate the proceeds from the sale of a portrait of herself to help girls in Nigeria.
The painting of the 16-year-old -- who was shot in the head by the Taliban in 2012 while on her way home from school in Pakistan -- is expected to fetch between $60,000 and $80,000 at Christie's auction house in New York City on Wednesday. Yousafzai announced in a statement through her eponymous foundation that 100 percent of the sales will support local Nigerian nonprofits that focus on education and advocacy for women and girls.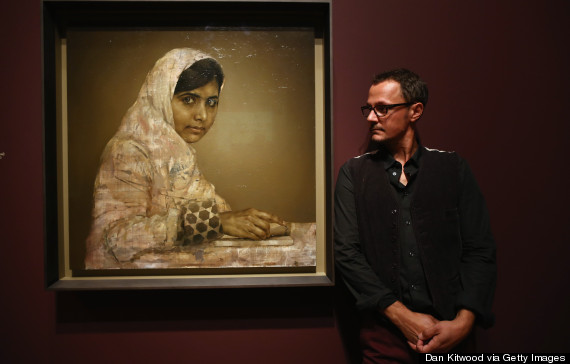 Artist Jonathan Yeo said the portrait demonstrates the inherent struggle and beauty in Yousafzai's mission.
"I hope the painting reflects the slight paradox of someone with enormous power yet vulnerability and youth at the same time," Yeo said in a statement.
Yousafzai's donation decision comes amid international outcry from activists across the globe to help the nearly 300 Nigerian girls who remain in captivity after being kidnapped by terrorist group Boko Haram last month. The girls' captors, who abducted the students from schools in the northern region of the country, released a video on Monday believed to be of the girls chanting Quranic verses, and said they will exchange the victims for imprisoned Boko Haram members, the Associated Press reported.
Yousafzai has pledged her support for the kidnapping victims, from the outset, calling the girls her "sisters" in a recent interview with CNN. The Malala Fund has also established a specific fundraising effort to help Nigerian organizations that do on-the-ground work that supports women and girls.
Find out how you can get involved with the Malala Fund's Nigerian effort here.
BEFORE YOU GO
PHOTO GALLERY
Boko Haram: Nigeria's Homegrown Terror