Months before her third child was due, Jessie Bruton began to lose feeling in her legs.
When the numbness spread, slowly, from her legs to her stomach, doctors in Australia performed an emergency C-section on the 26-year-old mother, who awoke from the surgery to two life-changing realizations: First, that she was the proud mother of a healthy newborn child; and second, she could no longer walk on account of extensive nerve damage she'd sustained while pregnant.
Jessie and two of her children with the car. Story continues below.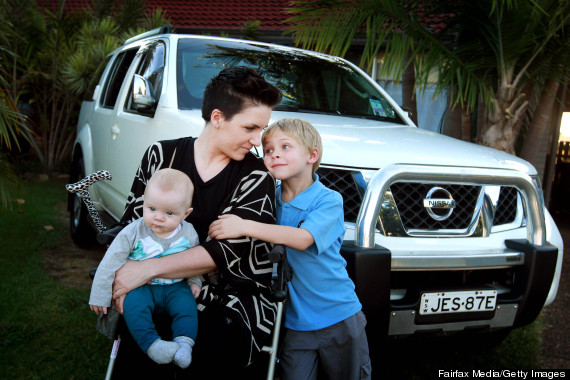 (Sylvia Liber/Illawarra Mercury/Fairfax Media/Getty Images)
"I've lost my independence and I find it hard to ask people for help -- but I have to," Bruton, a former fitness instructor, told the Illawarra Mercury in early March. "No one can tell me how disabled I'm going to be for the rest of my life."
Earlier this month, an anonymous donor gave Bruton a good deal of her independence back, leaving a brand new SUV in her driveway, complete with hand controls so she could operate it without use of her feet and enough space for her wheelchair.
"It was just incredible to get home and see the car parked there with a red bow and a lovely card saying they hoped it would help my family out, and make me smile," Bruton told the Illawarra Mercury in a followup article. "It's really lovely to know there are people in this world who are willing to give something without receiving any recognition."
"There was a card in it, addressed to me and my husband, saying [the car] was for us, because we'd had such a hard time lately, and to keep on smiling," Bruton added to Australian radio station 2GB in an interview Wednesday.
Bruton in the new car: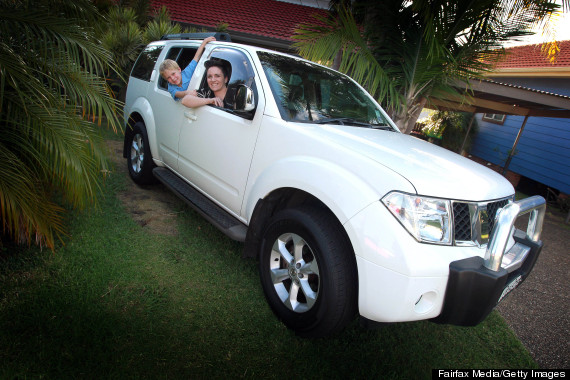 (Sylvia Liber/Illawarra Mercury/Fairfax Media/Getty Images)
The mother of three just passed her disability driver's license test in the new car, and says she's grateful to the anonymous person behind the magnanimous gesture.
"I respect that they want to remain anonymous," says Bruton, "but I'd just like to thank them for letting me drive again -- letting me feel a bit normal again."
BEFORE YOU GO
PHOTO GALLERY
26 Acts of Kindness