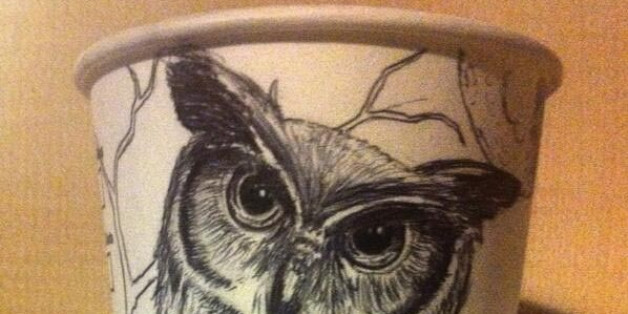 The only thing hotter than Gabriel Nkweti Lafitte's coffee is the cup it comes in.
The 41-year-old barista, who works at a Starbucks in central London, has taken doodling on coffee cups and turned it into an art. In addition to the customer's name, Lafitte adorns cups with sketches of anything varying from a T. rex skeleton to a beautifully drawn owl perched on a tree branch.
"I love seeing people's reaction to my drawings," Lafitte told Metro, explaining he makes each cup -- some of which require 40 hours of work to finish -- for customers who exhibit kindness. "I enjoy the joy and surprise on their faces."
According to the outlet, he creates his work at home, and then has lucky patrons come back in to pick up their cup.
Lafitte told Buzzfeed he'd love to see his designs, which he currently draws on disposable paper cups, adorn more permanent ceramic mugs one day.
The cups have been a huge hit with customers, who love the one-of-a-kind creations Lafitte makes just for them.
"No one has EVER made me anything. So I'm basking in this," one happy recipient tweeted at Lafitte. "Thank you to the incredibly talented Gabriel.."
Check out photos of Lafitte's cups, below:
PHOTO GALLERY
Starbucks Barista Goes Above And Beyond With Cup Art
BEFORE YOU GO
PHOTO GALLERY
Gabriel Nkweti Lafitte