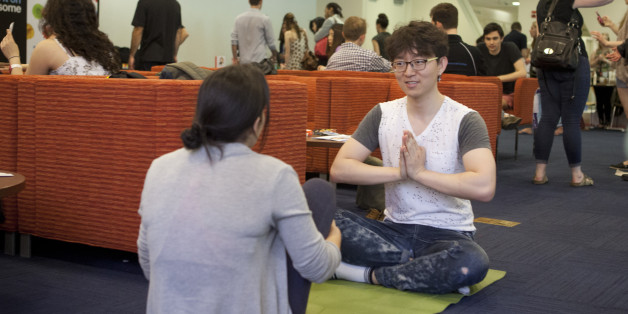 As classes began to wind down and exams started up at New York University, The Huffington Post partnered with the Class Activities Board to create a stress-free environment for students to take a break during finals week.
Held in the Kimmel Center for University Life, the oasis included a variety of healthy snacks and relaxing activities that would help send the students into their finals week feeling recharged and refreshed. Cold juices were provided by Juice Press and massages were given by Village Beauty Lounge. Students could get Fresh beauty treatments which included Five to Thrive branding, reminding students to take even just five minutes for themselves during the chaos of exams. Kind passed out snacks and installed a flower wall where they encouraged students to take a rose to pass on to other students in order to inspire kindness in their every day lives.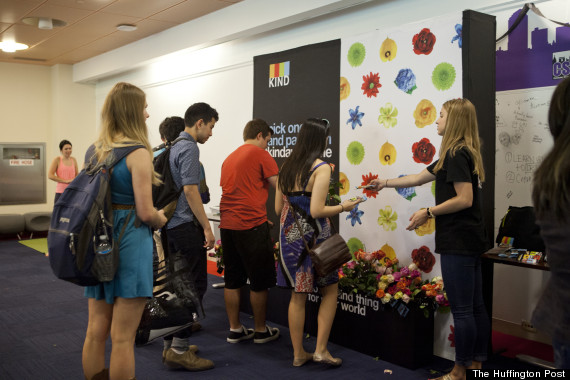 Everything was complimentary, including the healthy snacks from Kind, beauty treatments and yoga taught by The Huffington Post's TV Editor, Leigh Weingus. The goal, as Arianna Huffington likes to say, is to help learn to unplug and recharge. Copies of her book, Thrive, were available to read around the room and print outs of her 12 practical steps were distributed to the students.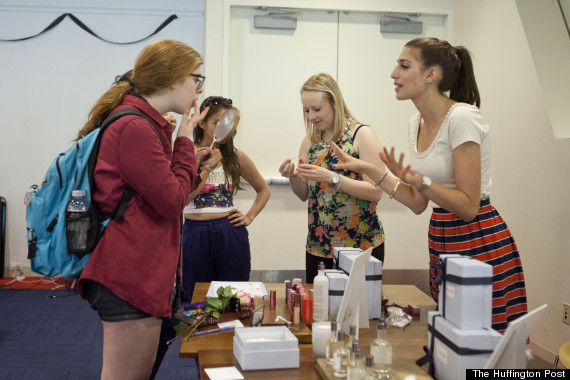 The college oasis is an extension of what HuffPost brought to the University of Miami's campus and the national political conventions in 2012. These campus visits are being timed to help ease stress close to final exams.
The Huffington Post will be bringing the college oasis to the University of California-Los Angeles on June 2.
Check out photos of the NYU oasis below.