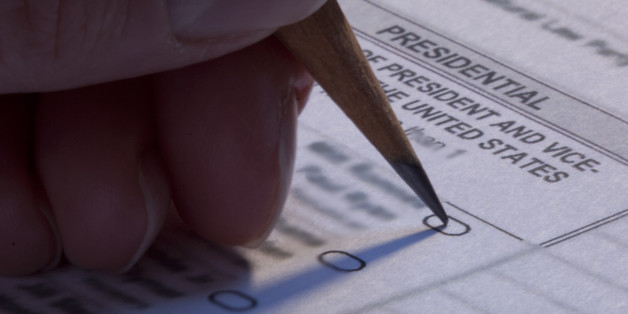 Gallup releases the results of some experimental 2013 polling, but the debate over its likely voter model continues. Democrats are better-liked than Republicans, but still unpopular. And will Republicans tone down the Obamacare rhetoric after the primaries? This is HuffPollster for Friday, May 16, 2014.
ANAHEIM -- On Friday, Gallup released the second and final wave of results from an extensive review of its 2012 polling and pre-election poll methods to an audience of pollsters at annual American Association for Public Opinion Research (AAPOR) conference in Anaheim, California.
Gallup's initial "mea culpa" report, released in June 2013, identified four factors that helped explain why its surveys in late 2012 showed President Barack Obama consistently trailing GOP nominee Mitt Romney. The company has revised its methods in an attempt to correct three of those failures: inadequate representation of non-white adults in their samples, under-representation of certain geographic regions and a non-standard method of sampling. [HuffPost]
Today's report covered details of separate experimental surveys conducted just before and after the 2013 elections in Virginia and New Jersey to investigate Gallup's "likely voter model," the procedure it uses to selecting voters deemed most likely to vote. With the assistance of University of Michigan Professor Michael Traugott and a team of graduate students, Gallup conducted parallel surveys in October using three different methods. They conducted telephone polls (using Gallup's standard random digit dial sampling of landline and mobile phone numbers) and two different sets of online polls, one via Google Consumer Surveys and another using the SSI Market Research Internet panel. The polls -- not released to the public at the time they were conducted -- tested experimental questions that could be used in the future to ask about vote preference, past voting and future vote intent. The project also evaluated a variety of alternatives to Gallup's standard "likely voter" model.
One of the "major takeaways" of the study, according to Gallup Editor-in-Chief Frank Newport, is that "the use of comprehensive sampling frames of cellphones and landlines continues to provide more accurate estimates of voting behavior than any 'new' methods tested including on-line Internet polling methods, use of new innovations like Google surveys." In summing up the findings for HuffPollster, Newport added, "Likely voter models are clearly important, but their added value can vary from election situation to situation."
In New Jersey, for example, all of the likely voter models tested provided a less accurate forecast of the result than the results gathered for all registered voters. In Virginia, however, Gallup's likely voter model produced the most accurate result of all the alternatives tested.
Newport also said he was pleased with the findings of the alternative questions tested, which he explained, "provided evidence of ways of tweaking the process of asking about past voting and projected future voting which improve estimates, and provided insights into more arcane processes such as the order in which the candidates' names are read."
One big surprise, however, involved a methodology that Gallup did not test: polls that draw samples from lists of registered voters. Pollsters that conduct internal polls from campaigns have grown convinced that voter list sampling provides a more accurate way to sample truly likely voters. "[T]he likely-voter screen is becoming an afterthought in the parallel world of private polls...commissioned from partisan firms to guide strategy," Sasha Issenberg explained in 2011. Rather than relying on "on voters' honesty and self-awareness to determine who is a likely voter," he wrote, campaigns use the individual voting histories available on the voter lists to sample and identify likely voters. [Slate]
Why didn't Gallup test voter list samples? "We carefully considered it," Newport explained. He said his staff spent time looking into the issue and even "contacted purveyors" of voter lists, "but in the end it was partly a practical consideration that to move in that direction would involve beginning to negotiate a lot of the issues of assembling lists in states, it takes time, there are missing phone numbers for large numbers of individuals and a variety of considerations along that line. Also it meant that we didn't in this context have the time or wherewithal to provide full scale testing using voter lists."
Traugott added that the project "began with the assumption that in the Gallup context, pre-election polling is used for variety of purposes," including the tracking of presidential job approval among all adults that would be impossible with a sample limited to registered voters.
DEMOCRATS RETAIN FAVORABILITY EDGE OVER GOP - Andrew Dugan: " Americans view the Democratic Party more favorably than the Republican Party, even though both parties have a net unfavorable rating. Democratic Party favorable ratings have held steady since last June, while Republican favorables have increased slightly from their all-time low last year. Still, if the Republicans' current favorability ratings hold, they will be the lowest ever for either party in an election year. These ratings are based on a Gallup poll conducted April 24-30, 2014, in which the Democratic Party had a favorable rating of 44%, compared with 34% favorable for the Republican Party. Views of both parties have not changed markedly from the last update in December 2013, and the Republican Party's favorability has improved only modestly from the all-time low of 28% observed during the October government shutdown." [Gallup]
GOP POLLSTER PREDICTS POST-PRIMARY SHIFT ON ACA - Marjorie Connelly: "In response to polling data showing that the Affordable Care Act has become more popular, a prominent Republican pollster said that he expected Republicans to change how they talked about the law. 'After the primaries, expect a shift in Republican candidates' rhetoric against Obamacare,' said Bill McInturff, a partner in Public Opinion Strategies. 'Only few want to repeal the law; most want to fix and keep it,' he added. Mr. McInturff, speaking at the annual conference of the American Association for Public Opinion Research in Anaheim, Calif., was referring to results from survey work his firm does with Hart Research Associates for NBC News and The Wall Street Journal.
Mr. McInturff said he still believed the law would hurt Democrats in the midterm campaign." [NYT]
UPDATE: McInturff wrote HuffPollster to clarify his remarks, saying in an email, "Republican candidates will continue to support the repeal of Obama care, but I do think the way this is expressed in the general election could sound different than the way it sounds today in the primaries. For example, I expect there to be more precise examples of what Republicans want to repeal. I also expect there'll be more first-person testimonials from those hurt by the law."
HUFFPOLLSTER VIA EMAIL! - You can receive this daily update every weekday via email! Just click here, enter your email address, and and click "sign up." That's all there is to it (and you can unsubscribe anytime).
FRIDAY'S 'OUTLIERS' - Links to the best of news at the intersection of polling, politics and political data:
-Rasmussen finds Ben Sasse (R) leading his Democratic opponent in Nebraska's Senate race. [Rasmussen]
-A GQR (D) survey for the Democratic Senate Majority PAC puts Mary Landrieu (D) within 2 points of avoiding a runoff in the Louisiana Senate race. [WashPost]
-Most Americans like Hillary Clinton and think she'll win the presidency. [Reuters]
-Just a quarter of Americans are satisfied with the direction of the country. [Gallup]
-A new survey finds little change in Americans' view of the death penalty. [POS]
-Harry Enten sees a very slow downward trend on support for the death penalty. [538]
-A majority of Ohio voters support same-sex marriage. [Quinnipiac]
-The Washington Post's election forecast lowers the GOP's chance of a Senate takeover from 82 percent to 77 percent. [WashPost]
-Brendan Nyhan notes that an advantage on the issues didn't help Democrats in 1994 or 2010. [NYT]
-Allison Kopicki explains why women are more likely to tell pollsters, "I don't know"; Philip Bump looks at PPP's polling as a case study. [NYT, WashPost]
-Jay Newton-Small reacts to a study that claims women who look more feminine are more likely to be elected. Time]
-Monica Anderson finds little change in women's roles in the newsroom over the years. [Pew Research]
-Bruce Feiler looks at America's shift to the "United States of Metrics." [NYT]
-TargetSmart Communications maps partisanship and voting history by last name. [TargetSmart]