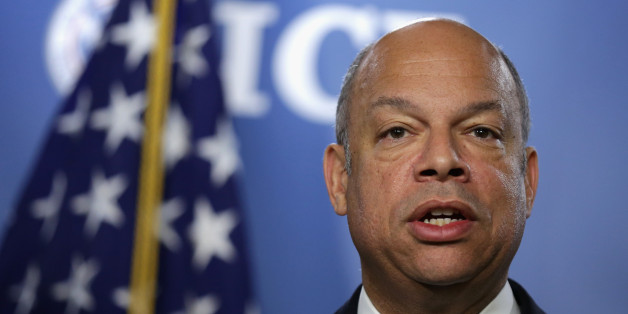 WASHINGTON -- Homeland Security Secretary Jeh Johnson hinted on Thursday that a controversial program that helps the government find undocumented immigrants will be overhauled.
The Obama administration is currently reviewing its deportation policies, and many advocates hope that will lead to changing -- or eliminating entirely -- the Secure Communities program, which allows immigration officials to access fingerprint data taken by local police.
Johnson confirmed to Judy Woodruff of "PBS NewsHour" that DHS is "taking a fresh look" at Secure Communities.
"In my judgment, Secure Communities should be an efficient way to work with state and local law enforcement to reach the removal priorities that we have, those who are convicted of something," he said in an interview that aired Thursday evening. "The program has become very controversial. And I told a group of sheriffs and chiefs that I met with a couple days ago that I thought we needed a fresh start. And this is a conversation I have been having with a number of mayors and governors."
Asked whether change would happen in the near term, he said, "I believe it will and it should."
Johnson had previously indicated to law enforcement officials that he was looking to make changes to Secure Communities. Officials said after meeting with Johnson last week that they expected a "reboot" of the program.
Secure Communities allows DHS to detect immigrants who could be deported through their fingerprints and then ask police to hold them up to 48 hours, excluding weekends, longer than they otherwise would. The program has been controversial since its inception in 2008, but it has recently faced a backlash from a growing number of local and state officials.
Critics of the program have said although it may sound good in theory, Secure Communities turns local police into de facto immigration agents, making it more difficult for them to work with immigrant communities. They also argue it wastes money, violates civil liberties and leads to the deportation of people charged with minor crimes or never charged at all.
In response, a number of city, county and state officials have announced policies to limit their cooperation with Secure Communities.
Even an overhaul of the program might not be enough to stop the revolt against it, however. A previous review of Secure Communities in 2012 led to some reforms, but didn't quiet advocates who said the changes were not enough.
Johnson also spoke to Woodruff about the potential for expanding a program that allows undocumented young people to apply for temporary work authorization and gives them a reprieve from the threat of deportation. Some advocates have said the administration could extend that program to the families of those young people.
When asked whether the administration is "looking seriously" at such an expansion, Johnson said it is "looking at a wide variety of things." But he then hinted that the move may be outside the administration's authority.
"I would say that we have to be careful not to preempt Congress in certain areas," he said on PBS. "They are the lawmakers. Whatever we do in the executive branch, we have to do within the confines of existing law. So we have a fair amount of discretion when it comes to how we prioritize our enforcement activities."
BEFORE YOU GO
PHOTO GALLERY
U.S. Capitol Photos