UPDATE: An Oahu grand jury has indicted Jill Anjuli Hansen on a charge of second-degree attempted murder. As she left the courthouse Tuesday, Hansen said she's innocent and believes she was framed. She told reporters, "I just wanted to surf the world tour of surfing." Victim Elizabeth Conklin told reporters she believes Hansen had been trying to steal her BMW.
A 73-year-old Hawaii woman was seriously injured after being struck by a hit-and-run driver in the garage of her own apartment building.
Police say the incident was brought on by road rage, and charged Jill Anjuli Hansen, 30, with second-degree attempted murder, KHON reports.
Hansen allegedly followed Elizabeth Conklin to her Honolulu condo where she hit her with her car and subsequently fled the scene, according to Hawaii News Now.
Witnesses at the scene told police that after hitting Conklin the first time, Hansen reversed her vehicle in order to hit Conklin again. Chris Khory, a maintenance worker at the condo, then used a crowbar to smash the back window of Hansen's car, causing Hansen to flee the scene on foot.
Hansen, who says she is a professional surfer and model on her Facebook page, has a slew of traffic infractions and prior moving violations, as well as a restraining order against her and a pending third-degree assault case. In addition, court records show she was ordered to have a mental health evaluation in connection with a separate case.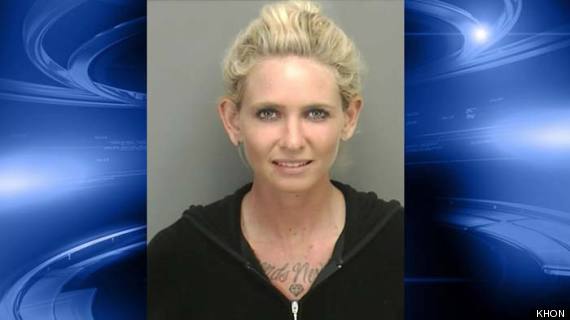 Jill Anjuli Hansen
Her driving behavior had become the focus of a local neighborhood watch group whose members claim more than half a dozen people were threatened by her driving.
"We needed everybody on the lookout for her -- that's how scary it was," a member of the group told the Honolulu Star Advertiser.
Hansen, who gave a TEDx talk in 2010 in Fullerton, California, entitled "Open Mind, Open Heart," has numerous profanity-laced posts on her Facebook page about her "haters." A May 14 post, which was written just hours after the alleged hit and run, was upbeat about her prospects as a professional surfer.
Hansen's bail was set at $1 million.
Conklin's husband said his wife is recovering well.
BEFORE YOU GO
PHOTO GALLERY
Dumb Criminals: Mugshot Gallery