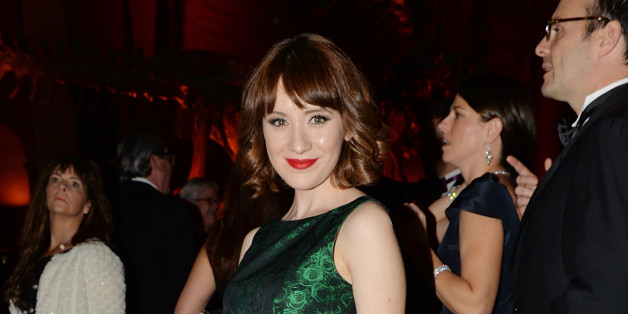 Noël Wells began her first season as a featured player on "Saturday Night Live" by leading a parody of "Girls." As the show's 39th season draws to a close on Saturday (with host Andy Samberg), Wells can be seen playing a character who might feel at home on Lena Dunham's HBO series: Sophie, a struggling actress who decides to marry her neighbor after a string of bad luck in the indie comedy "Forev."
Directed by Molly Green and James Leffler, from their own script (with contributions from Wells and stars Matt Mider and Amanda Bauer), "Forev" was shot back in 2012 and made the festival rounds last year before arriving on iTunes and on-demand services this week.
"I haven't seen it since it premiered at the Los Angeles Film Festival last year," Wells told HuffPost Entertainment. "But when we were shooting it, I thought I was just so bad. I tend to beat myself up a lot over everything that I do. Seeing it a year later, though, I was like, 'Oh, I'm not that bad.'"
Wells is being modest: Her easy-going performance is the standout part of "Forev," and portends to greater things in the future.
"I feel like I'm a very different performer from where I was two years ago," Wells said. "I'm a lot less self-conscious and I have a little bit of a stronger handle of who I am as a performer. Looking at the movie, I feel like I'm more of a blank slate in it. Maybe I was a little unsure of who I was, but maybe that also works for the character."
Wells moved to Los Angeles after graduating from the University of Texas at Austin, where she focused on film editing and directing. "I just thought trying to be an actor -- especially wanting to be on 'Saturday Night Live' -- was the dumbest thing to want to do. Nobody gets there," she said.
But after building up a diverse resume of comedy shorts and performing with Upright Citizens Brigade, Wells auditioned for "Saturday Night Live."
"They have you stay in this really small hotel," she said of her "SNL" audition memory. "It's like a hotel for businessmen who haven't seen their family in months. I swear to God, I heard a man talking to his kid on Skype or FaceTime. She was like, 'Daddy, where are you?' He was like, 'I'm sorry, Tiffany, happy birthday.' I just remember being so sad about that, and also realizing everybody could hear everything I was doing in my room. I couldn't practice my audition without feeling super self-conscious."
To combat that feeling, Wells decided to go to Central Park, where she had anticipated doing her audition in front of a tree ("which made a lot of sense because nobody laughs at your audition"). Unfortunately, the sight of a person gesturing wildly to no one in particular drew the attention of park visitors, which necessitated a new course of action.
"I had the idea that the only way to get through five minutes would be to find somebody on the field and perform it for them," Wells said. "I spent 30 minutes picking somebody out, walking really close to them and then bailing at the last second. Finally, I was like, 'Stop being a pussy. You want to be on 'Saturday Night Live.' You will approach a stranger and ask them to watch the audition.'"
Wells found two men in their early 20s who agreed to listen to her material.
"So I did it for them and at the end of it, they were like, 'We have some notes.'"
As mortifying as that experience might sound, it's nothing on Wells' first-ever audition, a situation that she replayed to comic effect in "Forev." (The sequence can be seen above.)
After arriving in Los Angeles, Wells received an email notice that Hebrew National was looking for an "all-American girl" for a new commercial. "I was like, 'That's me! I am an all-American girl!'"
The audition required Wells to eat a hot dog bun, but without the hot dog.
"They said for me to take a bite and look like I was really enjoying it, because it's a close up of my face," Wells said. "I took a bite, and if you've ever had a hot dog bun without anything in it, you suffocate. It expands in your mouth. I was just trying to look like I was enjoying it, but probably way over-acting with a lot of meaningful eye contact with the camera."
After the director said cut, Wells was forced to spit the bun out in the trash can, which was filled with other hot dog buns from prior auditions and, as she recalled, "other girls' dreams."
"I felt disgusted. As I left, I felt like I had to say something. I stopped and looked at the guy and said, 'That was degrading,'" Wells said. "He just looked so ashamed and said, 'I've been watching it all day.'"
BEFORE YOU GO