With National Burger Month in full swing, President Barack Obama and Vice President Joe Biden got their fix for lunch on Friday.
The White House duo grabbed a meal at Shake Shack in Washington's Dupont Circle neighborhood. Per a pool report, Obama ordered a burger and fries and Biden ordered a cheeseburger, fries and a black-and-white milkshake.
A March ThinkProgress report revealed the burger company pays above-average wages, with a starting salary of $10 an hour in New York, and $9.50 an hour elsewhere, with benefits.
According to a separate pool report, Obama and Biden were meeting with four workers from D.C.'s 1st Street NE reconstruction project in NoMa, which is one of the city's fastest gentrifying neighborhoods.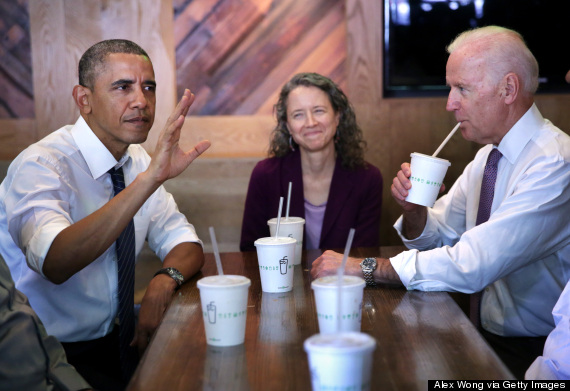 U.S. President Barack Obama (L) and Vice President Joseph Biden (R) meet with local workers, including Meredith Upchurch (C), at the Dupont Circle location of restaurant chain Shake Shack on May 16, 2014 in Washington, D.C. (Photo by Alex Wong/Getty Images)
BEFORE YOU GO
PHOTO GALLERY
Obama's Getting Hungry