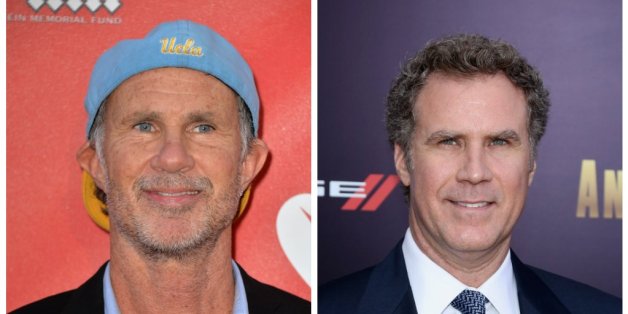 Will Ferrell will have a drum battle with his doppelganger on "The Tonight Show Starring Jimmy Fallon" next Thursday, May 22. The only problem is that his unlikely twin just happens to be Red Hot Chili Peppers drummer Chad Smith. Fallon announced the battle on his show Thursday, May 15, and said they would "settle who's the better drummer once and for all."
"I'm all for it. But unless Will's been practicing or is secretly a crazy, wild drummer, I think it'll be evident right off the bat who the real Chad Smith is," Smith told Rolling Stone. "I'm ready to take him down."
Ferrell first mentioned the idea of a drum battle during a Reddit AMA last February when he wrote, "It has been acknowledged many times that myself and Chad Smith, drummer for the Red Hot Chili Peppers, share a resemblance to each other. A lot of people think that it's me playing for the Red Hot Chili Peppers. But that would be an insult to Chad Smith. The truth of the matter is there is no Will Ferrell. Only Chad Smith."
Smith upped the ante when he responded. "Stop impersonating me. In fact, I need you … drum battle," he said. "Me and you. I've seen your skills; you don't got 'em. Let's go. Golden cowbell. Winner. Boom!"
Ferrell said he would do it if they raised $300,000 for charities Cancer for College and Little Kids Rock, and that quickly happened in an online fundraiser. The sketch will be the only time the two have ever appeared in public together, but they did meet once in 2000. During a 2011 interview with Rolling Stone Smith said that Ferrell came up to him at a showing of "The Ladies Man" and said, "You're very handsome." He then walked away. Let the drumming begin.
See the lookalikes respond to each other in these Instagrams. It's spoooky!

BEFORE YOU GO
PHOTO GALLERY
Celebrity Dopplegangers