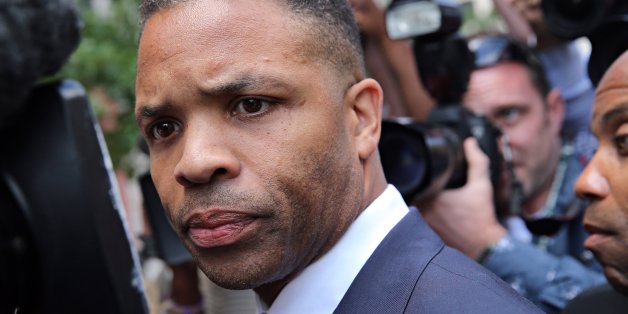 In a move that would make Tywin Lannister proud, former Illinois Congressman Jesse Jackson, Jr. is hustling to pay his debts.
Jackson is refinancing one of his homes and will pay $550,000 to U.S. Marshals via wire transfer by June 1, the Chicago Tribune reports.
The pending payment from Jackson's home will square the $750,000 restitution he was ordered to pay after pleading guilty to misusing campaign cash for personal expenses like a watch, dry cleaning, mounted elk heads and Michael Jackson memorabilia.
The disgraced Democratic representative previously cut the marshals a check for $200,000 upon starting his 30-month federal prison sentence in November of 2013.
Jackson and his wife Sandi own homes in both Chicago and Washington, D.C., though the federal court filing doesn't indicate which of the properties will be refinanced. It was previously reported the Jacksons would sell their four-bedroom Victorian-style DuPont Circle townhouse in D.C., though the $2.5 million listing was pulled shortly after it was posted.
Jackson is expected to be released on Dec. 31, 2015 from a federal prison in Alabama, to which he transferred from a facility in North Carolina where he was reportedly doing a "fastidious job" scrubbing toilets.
Sandi Jackson, a former Chicago alderman, is expected to start a one-year sentence for filing false tax returns within 30 days of her husband's release from prison.
BEFORE YOU GO
PHOTO GALLERY
What The Jacksons Bought With Campaign Cash