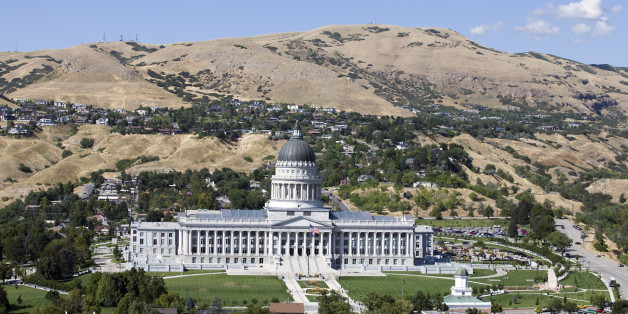 Utah will be required to recognize gay marriages performed during the short period that they were legal in the state, a federal judge ruled Monday.
U.S. District Judge Dale A. Kimball is ordering Utah Gov. Gary Herbert to recognize more than 1,200 same-sex marriages that were performed during a 17-day period beginning Dec. 20, 2013, when a court ruling briefly overturned the state's ban on gay marriage.
On Jan. 6, 2014, the U.S. Supreme Court granted the Utah attorney general's office a stay of the ruling while the 10th Circuit Court of Appeals reviews the case, halting the issuance of marriage certificates to same-sex couples.
"Governor Gary Herbert and Attorney General Sean Reyes shall immediately recognize the marriages by same-sex couples entered pursuant to Utah marriage licenses issued and solemnized between December 20, 2013, and January 6, 2014, and afford these same-sex marriages all the protections benefits and responsibilities given to all marriages under Utah law," Kimball ruled.
Evan Wolfson, president of Freedom to Marry, echoed the judge's sentiments in a Monday statement.
"More than 1,300 committed couples paid their fees, were issued marriage licenses, stood before family and friends, and got married – and the court was right to hold that they should be treated as what they are: married," he said in the statement. "Many others also want to take on that legal commitment and are being denied, and the litigation continues, as must our work in Utah and nationwide. The appeals courts and the Supreme Court should rule against marriage discrimination, just as the judge did today. America is ready for the freedom to marry."
BEFORE YOU GO
PHOTO GALLERY
Gay Marriage In The United States