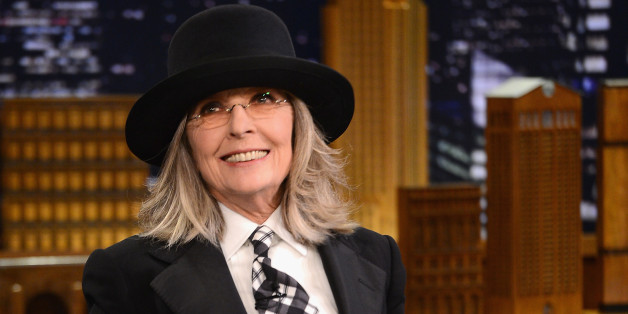 Diane Keaton certainly won't let her age stop her from living her life to the fullest.
Keaton shared an excerpt from her new memoir "Let's Just Say It Wasn't Pretty" via the Daily Beast on May 19. In the excerpt, the 68-year-old actress explained that she won't try to hide her age with plastic surgery:
"I tell myself I'm free to do whatever the hell I want with my body. Why not? I may be a caricature of my former self; I'm still wearing wide-belted plaid coats, horn-rimmed glasses, and turtlenecks in the summertime. So what? Nobody cares but me. I don't see anything wrong with face-lifts or Botox or fillers. They just erase the hidden battle scars. I intend to wear mine, sort of."
Instead of focusing on aging, the actress said she continuously reminds herself to be grateful for what she has. Keaton said that she and fellow baby boomers in Hollywood, including longtime friend Woody Allen, "refuse[s] to acknowledge their oncoming demise" and retire from showbiz. She continued:
"Who cares if the U.S. government has proclaimed us old? We're not letting go. This past year the Social Security Administration informed me that my retirement age was 66. I tell myself not to feel bad because my life expectancy is 88 which means I have 19 more years of life. I'll tell you one thing: I'm going to try to make the best of those 19 years."
Head over to the Daily Beast for the full excerpt from Keaton's book, "Let's Just Say It Wasn't Pretty."
BEFORE YOU GO
PHOTO GALLERY
Inspiring Celebrity Body Image Quotes