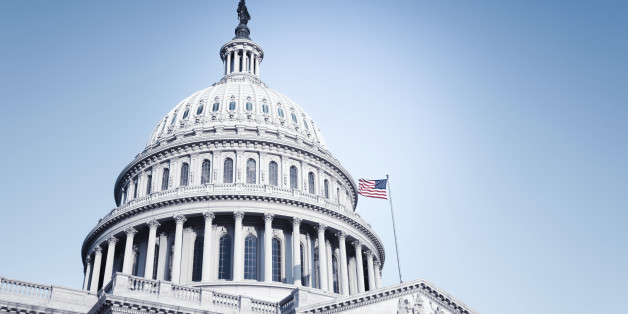 Incumbents win and the Tea Party loses in Tuesday night's primaries. The VA faces a crisis of public opinion. And the nation's most sophisticated weather forecasting data yields...a true Sharknado. This is HuffPollster for Wednesday, May 21, 2014.
TUESDAY'S RESULTS: AN END TO A FRACTURED GOP? - Dan Balz: "Senate Minority Leader Mitch McConnell (R-Ky.) is nobody's example of a tea party Republican. Just two months ago, in an interview with the New York Times, he said of the tea party candidates challenging establishment Republicans, 'We will crush them everywhere.' That's exactly what McConnell did on Tuesday when he raced past tea party favorite Matt Bevin to win the Senate primary in Kentucky. But what was most striking in the aftermath was how quickly the tea party — symbolized by the outside conservative groups that once were calling for the senator's defeat — rushed to embrace this embodiment of the Washington GOP establishment and call for party unity in the fall. Tuesday's results — a very good night for the GOP establishment — were no big surprise. Establishment victories in the marquee races were predicted well in advance. But based on the instant and overnight reactions, Democrats should no longer assume that the Republican opposition will be fractured, demoralized and as consumed by fighting each other as on taking back the Senate." [WashPost]
TEA PARTY SUPPORT FALLS AMONG GOP - Sarah Dutton, Jennifer De Pinto, Anthony Salvanto and Fred Backus: "The tea party was an important factor in the 2010 elections, but its support may be waning, according to a new CBS News poll. Today, just 15 percent of Americans say they are supporters of the tea party movement - the lowest since CBS News began asking about the tea party in February 2010. The tea party reached its highest level of support (31 percent) in November 2010, soon after the midterm elections….The percentage of Republicans who identify as tea party supporters is now among the lowest in CBS News Polls." [CBS]
ANTI-INCUMBENT SENTIMENT DOESN'T TRANSLATE INTO DEFEATS - Janet Hook: "National polls show that American voters are seething with 'throw the bums out' sentiment. And yet, incumbents so far are managing to hold on to their seats. Not a single challenged Senate or House member has been defeated in any of the 12 states that have so far held congressional primaries this year….Polls show the depth of voters' hostility toward Washington in general and toward members of Congress in particular. In March, a Wall Street Journal/NBC News poll asked voters if, given the chance, they would replace every member of Congress, including their own representative. Some 54% said yes; 42% said no." [WSJ /(paywalled/)]
SUPPORT FOR SAME-SEX MARRIAGE CONTINUES TO RISE - Justin McCarthy: "Americans' support for the law recognizing same-sex marriages as legally valid has increased yet again, now at 55%. Marriage equality advocates have had a string of legal successes over the past year, most recently this week in Pennsylvania and Oregon where federal judges struck down bans on gay marriage. Two successive Gallup polls in 2012 saw support climb from 53% to 54%, indicating a steady but slight growth in acceptance of gay marriages over the past year after a more rapid increase between 2009 and 2011. In the latest May 8-11 poll, there is further evidence that support for gay marriage has solidified above the majority level. This comes on the heels of gay marriage proponents' 14th legal victory in a row." [Gallup]
VA FACES PUBLIC OPINION CRISIS - Emily Swanson: "Nearly half of Americans think that returning veterans receive worse care from Veterans Affairs hospitals than they would from civilian hospitals, according to a new HuffPost/YouGov poll conducted on the heels of the growing scandal over allegations of delays in treatment contributing to deaths of veterans. Forty-seven percent of Americans in the poll said the care veterans receive at VA hospitals is worse than at other major U.S. hospitals, while only 12 percent said the care is better. Twenty-one percent said it is about the same….In the new poll, 72 percent of respondents who said they previously served in the military -- and more than half of those with family members who currently serve or previously did -- said care at VA hospitals is worse than at other major hospitals." [HuffPost]
MELLMAN: PERSUASION WORKS - Mark Mellman (D) marshalls more evidence that increasing turnout is not the only way to win: "No doubt, most of the time, the number persuaded is small. But in the unusual races, the upsets, the ones that run counter to presidential type, those persuadables exert a huge influence. President Obama garnered 38.9 percent of the vote in North Dakota while our client, now senator, Heidi Heitkamp, got 50.5 percent....it's clear Heitkamp won not by bringing additional Democrats to the polls but by persuading some voters for GOP nominee Mitt Romney to split their tickets. Absent persuasion, Heitkamp would have lost...Persuasion experiments are hard to conduct and are far outnumbered by those testing get-out-the-vote (GOTV) strategy. No one has done the kind of meta-analysis of data that I cited on GOTV, but I calculated a simple mean of the effects recorded in 26 studies I located and found an average impact of 3.87 percentage points added [by persuasion] to the Democrats' vote. While some of these experiments revealed a short half-life for persuasion, others yielded more persistent effects. Of course, some studies showed zero impact, as did some of the GOTV experiments. Some also suggested much greater impacts, as did some of the GOTV studies. But on average, the persuasion experiments added more votes to the bottom line than did the turnout experiments." [The Hill]
'THE WORST POLL IN AMERICA' - David Weigel: "There's always one, and so far in 2014, Gravis Marketing is in the lead for the prestigious Strategic Vision Award for Botched Polling. In Texas, its final poll of Sen. John Cornyn's primary gave him a weak 43–28 lead over Rep. Steve Stockman. This was 25 points off—Cornyn beat Stockman...by a 59–19 margin. In Kentucky, Gravis closed out with a poll that found Mitch McConnell up by 14 points—48 to 34 over Matt Bevin...Gravis was slightly less wrong this time, as Bevin won 35 percent of the vote. But McConnell won 60 percent, for a 25-point margin that more than doubled Gravis'." [Slate; see also HuffPollster on why Gravis missed in Kentucky]
HUFFPOLLSTER VIA EMAIL! - You can receive this daily update every weekday via email! Just click here, enter your email address, and and click "sign up." That's all there is to it (and you can unsubscribe anytime).
WEDNESDAY'S 'OUTLIERS' - Links to the best of news at the intersection of polling, politics and political data:
-Andrew Cuomo (D) has a 29-point lead in the New York gubernatorial race. [Quinnipiac]
-Incumbent Jerry Brown (D) has more than 50 percent support in the open primary for California governor. [SurveyUSA]
-A PPP (D) poll finds Joni Ernst leading the Republican Senate primary field in Iowa. [PPP]
-A Marquette Law School poll finds the Wisconsin governor's race tied. [Marquette]
-Americans' views of the ACA depend more on how they think it'll affect care nationwide than on how they think it'll affect them. [ABC]
-52 percent of likely voters in Massachusetts consider the abuse of heroin or prescription painkillers a major problem. [WBUR]
-Tuesday's election results were not encouraging for the tea party. [WashPost]
-Mitch McConnell's victory was the weakest for a Kentucky Senate incumbent in more than 75 years. [HuffPost, via Smart Politics]
-Nate Cohn sees a narrow path to the Senate for Georgia Democrat Michelle Nunn. [NYTimes]
-David Hill (R) ponders rising apathy about the 2014 elections. [The Hill]
-Ben Highton says only 8 Senate races now look competitive, down from 16 in March. [WashPost]
-Nate Silver finds an eightfold increase in articles that mention Hillary Clinton's health, but most are about Karl Rove's controversial remarks. [538]
-John Della Volpe, polling director for Harvard's Institute of Politics, talks to Taegan Goddard about young voters and what will motivate them to vote in 2014. [Political Wire]
-More than a million Americans stopped identifying as Hispanic between 2000 and 2010. [NYT]
-Casey Tesfaye reports on her thoughts (and the blog posts of others) on AAPOR's 2014 Conference. [Free Range Research via @mikemokr]
-Pew Research tests your recall of some recent findings. [Pew]
-The Sharknado is a) real and b) coming for DC. [WashPost]