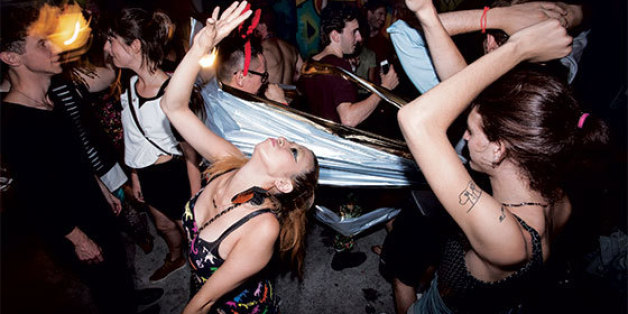 Are you ready to be touched by an alien?
A new party is coming to New York City's legendary Pyramid Club featuring some of Brooklyn's biggest names in drag and nightlife, and bringing Brooklyn's weird and subversive nightlife aesthetic to Manhattan's front door.
Called "Touched By An Alien," the new monthly will be thrown by Brooklyn designer and party promoter Trey LaTrash beginning on Friday, May 30.
Pyramid Club is an iconic space within the history of New York nightlife. A number of East Village artists and performers utilized the space to build a foundation for their careers in the late '70s and early '80s in wake of mega-clubs, like Studio 54 and The Limelight, dominating the nightlife scene at that time. Individuals involved at some point in the Pyramid Club community included RuPaul, Madonna, Lady Bunny and Lypsinka.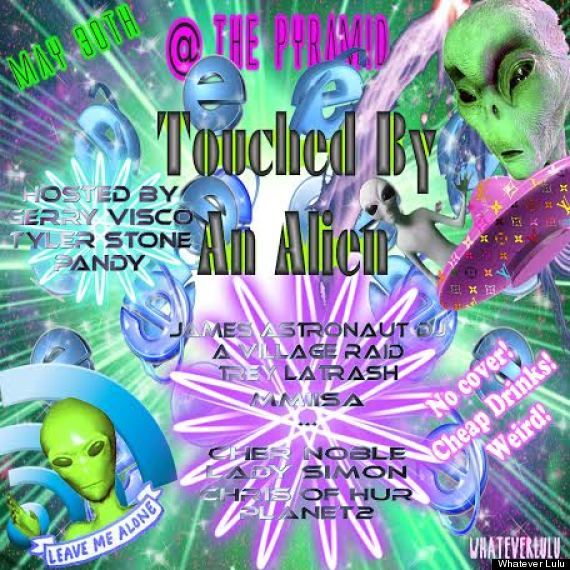 "Touched By An Alien" will feature performances from Chris of Hur, Lady Simon and Cher Noble, all of whom were featured in HuffPost Gay Voices Associate Editor James Nichols' series on Brooklyn drag culture "Queer New World." Hosts for the event include Nicky Ottav, Gerry Visco, Tyler Stone and Pandy.
In order to better understand this party and Trey LaTrash's decision to branch outside of the Brooklyn scene, The Huffington Post chatted with the promoter about what those attending the party can expect.
The Huffington Post: Most of your parties are in Brooklyn -- what do you want to show Manhattan about yourself with "Touched By An Alien"?
Trey LaTrash: I think what "Touched By An Alien" will bring to Manhattan is a low-key, care-free, lightweight, genuinely good time. Brooklyn and I really know how to have a bare-bones fun time.
Pyramid is legendary -- why did you decide to have "Touched By An Alien" here?
A few of us have had our eye on Pyramid for awhile now, and I think we will start seeing more new things happen there in the near future. It is already known as the first drag landmark and I don't think I could avoid walking in the footsteps of people like Rupaul, Lady Bunny, Lipsinka and Madonna if I tried. Plus aliens love pyramids.
Gerry Visco and Nicky Ottav are two of the hosts for this party -- who are these individuals and what is their work like?
Gerry and I have worked together several times, beginning when I first moved here. She hosted the first ever "Dizzyland," my monthly party in Brooklyn. I met her for the first time at Susanne Bartsch's party "On Top" and we rolled around on the inflatable furniture taking selfies all night. She is the only mother nightlife needs. Her work ranges from poignant, documentary-style pieces about her life to writing for "Interview" magazine and raging at Columbia University. Nicky is new to me and I met him at the Bowery Electric. His most notable work to date is probably his transformation with James St. James, and we are debuting his new single at the party on Friday. Get into the looks.
What can people who attend this party expect?
People who attend "Touched By An Alien" can expect to get weird, see some over-the-top drag that Brooklyn is now iconic for and dance until they sweat off their alien looks.
The first edition of "Touched By An Alien" will be next Friday, May 30 at Pyramid Club. Head here for more information.