After recently giving birth to a healthy baby girl, Weekend Today Show News Anchor and Personal Trainer Jenna Wolfe had some valuable first-hand wisdom to share with us about getting back in shape after childbirth.
When it comes to how long a woman should wait to work out after giving birth, Jenna feels very strongly that the answer is entirely unique to each woman based on how she feels post-pregnancy.
"What you don't want to do is go too far too fast," she warned, adding, "you should 100% get the green light from your doctor before you start working out again."
Jenna, who started working out three weeks post-delivery, said she waited until her body told her it was okay to push herself again. She started very slowly, walking on the treadmill using light water bottles as weights and eventually moving back into more physical workouts involving squatting and jumping.
Some doctors might advise women to wait at least six weeks before working out post-childbirth, especially if there was a C-section.
"Your body has muscle memory, so once your body is ready to bounce back, you have to slowly re-teach the muscles how to work," she explained.
In Jenna's pregnancy, she gained 27 pounds total over the course of nine months, and it took her a little over a month to lose that excess weight. She's still working on her own personal goals of tightening her stomach again, as well as rebuilding her endurance.
Jenna's closing advice for new mothers who want to get back in shape: "It took nine months to get your belly that big," she laughed, "so give yourself at least nine more months to get back in shape. Give your body a break!"
For more of Jenna's exercise tips, view the slideshow below:
PHOTO GALLERY
Fitness Tips From Jenna Wolfe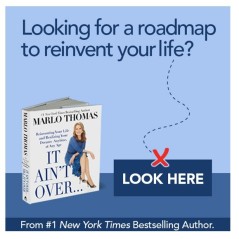 Add Marlo On Facebook:
Follow Marlo on Twitter:
Sign up to receive my email newsletter each week - It will keep you up-to-date on upcoming articles, Mondays with Marlo guests, videos, and more!