The Princeton Review announced Wednesday it is updating its website to include direct links to college campus security pages online.
The college rankings publisher said it's expanding the "Campus Life/Facilities" area of its online school write-ups with a "Campus Safety" section where users can find a link to a college or university's security page. These pages typically include a school's annual Clery report, the federally mandated report that discloses how many crimes of certain types are reported on or near a campus.
Princeton Review is updating this information for all 1,200 undergraduate colleges it lists online, the company said.
"Over the 2013-14 academic year, as news reports of crime –- including very disturbing reports of sexual assaults -– on college campuses increased, we looked to ways we could responsibly collect and report information that would be helpful to the students, parents, and advisors we serve," Rob Franek, The Princeton Review's senior vice president-publisher, said in a statement. "We reached out to college administrators for URLs to their campus safety and Clery Act Report pages. The majority of schools readily volleyed this information to us, and we are pleased to share these links on our site."
Franek said when schools update their reports in October, the Princeton Review will also update its website accordingly.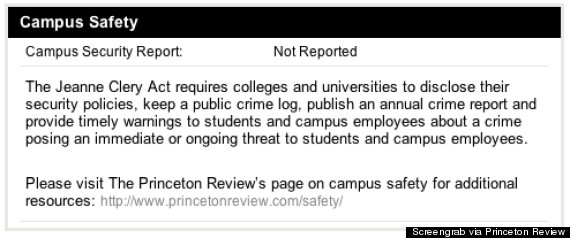 Clery reports don't tell the whole picture, however, since they can only include those incidents that are brought to the attention of designated campus employees or to university police. Sexual assault is a highly underreported crime, so advocates often note that when the number of reports goes up, it likely means that more people are reporting, not that the crime is occurring more often.
Since Princeton Review bases rankings on survey responses from students at colleges, the company could also theoretically begin to ask undergraduates their opinion about how their institution responds to sexual assaults.
Princeton Review does not have plans to begin surveying students on handling of sexual assault cases. Franek said the campus climate surveys endorsed by the White House Task Force To Protect Students From Sexual Assault would be more useful for this purpose.
The Review's announcement follows pressure from the activist group UltraViolet to incorporate how well a college or university handles sexual violence into its rankings.
Lawmakers had asked U.S. News & World Report to include information on campus safety in its rankings, as well. The magazine has agreed to include links to campus safety websites, but because the magazine bases its rankings on statistical data, incorporating campus safety numbers could potentially lead to misperceptions. U.S. News rankings czar Bob Morse noted the underreporting issue, and said "the data are not accurate enough to use in such a comparative analysis."