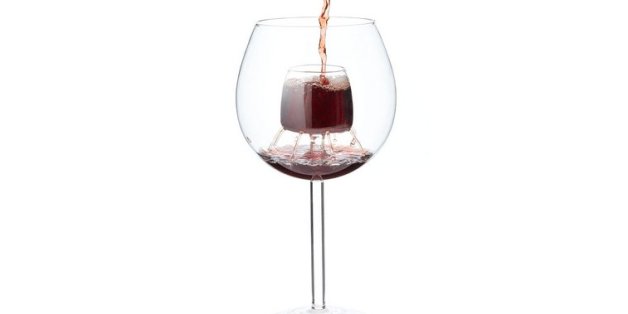 On the occasion when people drink wines that require aerating, there are a multitude of options. Between fancy decanters and quick blender hacks -- yes, this actually works -- there's more than one way to properly treat a fine wine. And now, there's yet another option: the Fountain Aerating Wine Glass.
The Fountain Aerating Wine Glass is like a modern day Greek fountain planted in front of a McMansion -- it isn't the most aesthetically pleasing of options when it comes to stemware, but it is born as a result of today's wants. This design lets you aerate one glass of wine at a time, because according to the creators of this stemware, "decanting a bottle of wine is such a racket." Who has the time to decant an entire bottle of wine these days, you know?
The perk of the Fountain Aerating Wine Glass is that it simultaneously opens up the flavors of your wine as you pour it into your glass so you can quickly have a single serving of fine wine. But what we can't understand is: why you would want to have just one glass of that great bottle of wine? The way we see it, if you're going to pop the cork on a nice wine, you had better drink the whole 750 ml -- with or without help. And, if that bottle of wine took years to develop, you owe it a few minutes of your time to let it respectfully decant.
Want to read more from HuffPost Taste? Follow us on Twitter, Facebook, Pinterest and Tumblr.
BEFORE YOU GO
PHOTO GALLERY
The Most Embarrassing Ways To Drink Wine By Wives