As part of our Blended Family Friday series, each week we spotlight a different stepfamily to learn how they successfully blended their two families. Our hope is that by telling their stories, we'll bring you closer to blended family bliss in your own life! Want to share your own story? Email us at divorce@huffingtonpost.com.
Nicole and Dennis didn't go into their relationship thinking blending their two families would be easy. But by managing their expectations -- and reminding themselves how lucky they are to have found each other -- the newly engaged couple say they're steadily working it out.
"Juggling our Brady Bunch (yep, we have three girl and three boys!) can be challenging, but the joy is overwhelming," she says. "There are so many personalities and individual needs to consider, but there's also so much love around."
Below, Nicole tells us more about how her family makes it work.
Hi Nicole. Want to introduce us to your family?
Sure. There are eight of us. My fiancé Dennis and I have six kids in total. Our 12-year-old twins Mary and Sophia and then there's Anna, 10; Finn, 8; Sawyer, 6 and Chapin, who's 4.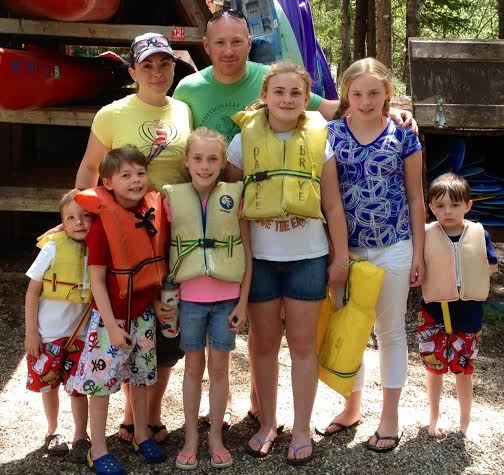 (Photo credit: Nicole Keck)
How long have you and Dennis been together?
Denny and I met on December 6th, 2012, after connecting on Match.com. (We each had friends try to convince us to join the site and we're so glad we finally listened -– turns out we have very smart friends!) We were each looking for a partner who was already a parent and would understand our own situation and priorities and we found that -- and so much more -- in each other. We were immediately inseparable and decided to introduce our children after couple of weeks because we couldn't bear the thought of not spending that Christmas all together. Our courtship moved more quickly than either of us had anticipated, but we each knew exactly what we were looking for and never doubted for a moment that we had found the real thing. My Match.com profile said that I wanted the fairytale; my relationship with Dennis has been nothing short of that.
What have been some of the biggest challenges so far?
When two families and households unite under one roof, there are the obvious logistical challenges. It really can be a challenge to provide six children with the space and privacy they all need and deserve. We have minor personality clashes here and there, but that's just part of having siblings. Time is also a huge challenge; six kids attending three different schools, with the addition of extracurricular activities makes for a very busy calendar and chauffeuring schedule -- add to that the goal of family dinners together and it's a daily juggling act. Thankfully we're both so in love with our little circus and our half-dozen hilarious clowns that we manage to enjoy the chaos.
More importantly, in terms of challenges, we now have six unique individuals to consider that each have their own needs, issues, preferences, goals, strengths, weaknesses and quirks. As a couple, we spend many hours a week talking privately together about the kids and their concerns and needs.
At the moment we're addressing one child's digestive issues, more than one child's foot odor (believe us, it needs to be addressed!), puberty issues and all that goes with that. We also have to walk them through the emotional issues that come with coping with divorce. There's never a dull moment, but we wouldn't want it any other way.
What's the best thing about being part of a blended family?
Denny brought the three girls to this family and I brought the three boys, so for him to be able act as a father to step-sons, and for me to be able to interact with my step-daughters has been a bit of a learning curve for each of us, but it's been really great. He gets to help mold them into young men and I get to be a part of the girls growing into young women -- things we never thought we'd have to opportunity to do. It's really a privilege we're both enjoying so much. What's more, we share perspectives on the other parent's children that we might not see ourselves and it's been very helpful.
What makes you proudest of your family?
Our personal relationship as a couple is unlike anything either of us has ever experienced and we're very proud of the quality of love and respect we have for each other and our new family. We feel like we're modeling what a joyful, healthy marriage should look like and that will hopefully have an impact on them as they grow older and make their own life choices.
Additionally, having eight people under one roof requires some sort of sacrifice from everyone, and thankfully the children have really risen to the occasion. We are immensely proud of them for the cooperative spirit they've shown in handling the transition. We recognize that we've asked a lot from the kids this past year and a half and that everyone needs time to adjust and get to really know each other and form bonds of their own. That's why we try to praise them and voice our appreciation for their efforts as often as possible.
How do you deal with stress in your household?
Firstly, we do our best to stave it off before it even happens. We recently saw a Ted Talk by Bruce Feiler about using the strategy of agile programming within the family to give children a stake in the rules and decisions in the family, while leaving the parents in charge. It's a way of letting ideas work their way up from the bottom so kids feel heard and involved and valued. We try to follow his model of family meetings where everyone gets to have their turn to speak about what went well that week and what didn't, what's on their mind and what goal we should set for the next week. We're not always religious about it but we do it as often as possible when we're all together on a Sunday night and we've had some great results. We like making them feel free to speak uninterrupted or challenged and they seem to like it as well. That helps smooth out the bumps and helps us weed out issues that could potentially be stressful.
When stressful situations do arise, we try to meet them head on, productively and positively. It's not always easy but we try not to get overwhelmed or overreact, and remind ourselves that the sun will indeed rise tomorrow, we simply need to handle things directly and stay optimistic. We remind each other that we've waited too long to find this happiness and that we refuse to take it for granted or let anything destroy it.
What advice do you have for fellow blended families struggling to keep the peace?
Just stay positive and focus on what's going well and what's good about the situation. It sounds simplistic but it makes a world of difference. We created a jar where the kids can drop in folded pieces of paper about anything good, positive, or cool that's happening in their lives. It's labeled "the cool jar." We started it as a way to keep track of all the year's happy moments so we can read them together on New Year's Eve as a way to look back on the year and feel gratitude. It's turning out to be a great way to focus on the good things, even small things that give us all joy. We have everything in there from "I got all A's!" to "I love having stir-fry every week." One note that made me smile when we placed it in the jar was "We told the kids today that we're getting married and our son, Finn, said to Anna 'We're going to be sisters!'"
These moments of joy and humor help remind us that we are living in that small window of childhood where the simple things are the important things. Things will never be perfect, but by choosing to focus on the good, setting an example of love and joy and never ever giving up hope, you really can't go wrong.
PHOTO GALLERY
Meet Nicole And Dennis' Family
Keep in touch! Check out HuffPost Divorce on Facebook and Twitter. Sign up for our newsletter here.

BEFORE YOU GO
PHOTO GALLERY
Blended Family Friday