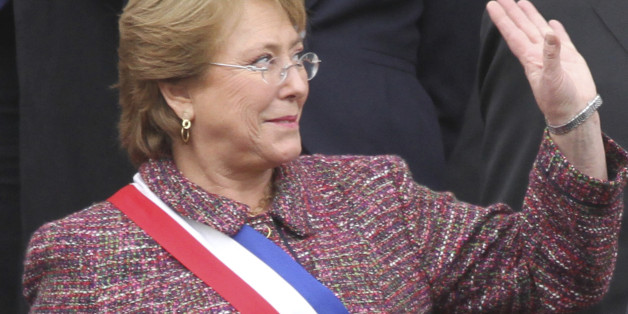 Chile will begin debating whether to reform one of the world's most restrictive abortion policies -- but don't expect widespread legalization of the procedure.
President Michelle Bachelet said Wednesday that she would introduce legislation legalizing abortion in cases of rape, unviable pregnancies or in cases where the woman's life is threatened, the local press reports.
"Periodically, we hear from the news about cases of women who get clandestine abortions that put their lives at risk and without doubt mark them with a painful, anguishing experience," Bachelet said in a speech.
One such case took place two weeks ago, according to Agence France Presse. A 17-year-old girl went to a public hospital in the capital of Santiago with a potentially fatal hemorrhage. Upon noticing the that the young woman had aborted a pregnancy, the doctor called the police.
Chile is one of five countries that considers abortion a crime punishable with prison time, according to Chilean daily La Tercera. The other four are the Dominican Republic, Nicaragua, El Salvador and Malta.
In another widely publicized case last year, an 11-year-old who had been repeatedly raped over two years by her mother's partner was prohibited from having an abortion, though the pregnancy endangered both the child and the fetus.
Then-President Sebastián Piñera, a conservative, opposed loosening restrictions on abortion and praised the girl for her "depth and maturity" when she said she would keep the baby. He made clear his opposition to Bachelet's proposal shortly after her announcement, writing on Twitter: "It seems that there's more care and worry about the well-being of pets than for the life and dignity of the children who have yet to be born."
Parece que hay mas cuidado y preocupación por el bienestar de las mascotas, que por la vida y dignidad de los niños que estan por nacer

— Sebastian Piñera (@sebastianpinera) May 21, 2014
Abortion is largely restricted and often outright prohibited in Latin America, where Catholicism is the dominant religion and the church has historically held significant power. Some countries that forbid the procedure allow exceptions for women whose pregnancy resulted from rape or incest, or cases in which the pregnancy endangers the mother's life.
But Chile retains a blanket prohibition. Abortion for medical reasons had been permitted in Chile until the country's government banned the practice entirely in 1989, as the rightwing military dictatorship headed by Augusto Pinochet came to a close.
Chile's current president, Bachelet, is a medical doctor by profession. In her speech on Wednesday, she called for a "mature discussion" about the reality of abortion.
Some conservatives, like Carlos Larraín, who heads the rightwing National Renovation party, oppose reforming the abortion law to conform to worldwide standards.
"It's possible that they'll get the votes together, but I still have faith that many people who belong to the rational left and Christian democracy will vote against it," Larraín said, according to La Tercera.
If the proposal were to become law, Chilean medical experts estimate that between 500 and 700 women could legally terminate pregnancies in cases where their lives or that of the fetus were endangered, La Tercera reports.
Chile became one of the last countries in the world to legalize divorce in 2004.
CORRECTION: An earlier version of this story incorrectly stated that the Pinochet government banned abortion entirely in 1973. In fact, the restrictions on abortion in cases of the endangerment of the mother's life were passed by the Pinochet government in 1989.