Before Barack Obama departed Chicago on Friday morning, the president stopped by one of his old hometown favorites for breakfast.
Obama hit up Valois Restaurant in Hyde Park, where he ordered two eggs over medium, bacon, hash browns and toast, according to ABC Chicago, and was joined by Illinois Gov. Pat Quinn.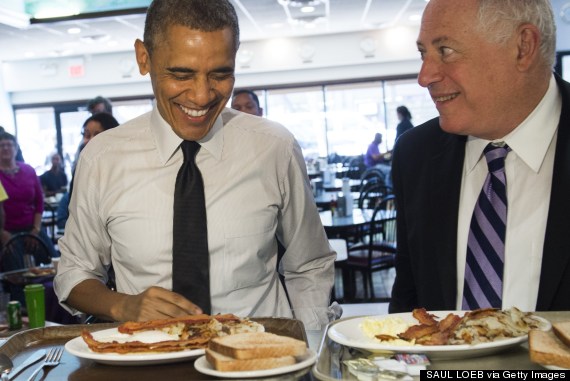 DNAinfo Chicago reports Valois manager Tom Chronopoulos offered to serve Obama an egg white omelette "to make Michelle happy," but the president stuck with his order.
Someone behind the counter captured a portion of Obama's time at Valois on video:
After Obama paid for his meal -- "I don't take free food," he quipped, according to the Chicago Tribune -- he met with supporters outside of the restaurant, shaking hands and posing for photos. One very enthusiastic woman, Sahan Kourouma, described meeting the president as one of the best days of her life, NBC Chicago reports:
Finally, the motorcade sped off toward Air Force One at 9:44 a.m. and Obama headed back to the White House.
Valois is a neighborhood mainstay known for their large portions of breakfast classics served cafeteria-style -- no credit cards accepted.
The restaurant has also been supportive of the president for years, even offering an "Obama's favorites" section of its menu featuring dishes like a Mediterranean omelette and a New York steak and eggs. It also has a glass cabinet filled with Obama memorabilia, including coffee mugs sporting a photo of the president. It is said that Obama has been dining at Valois since his days at University of Chicago.
They like Obama at Valois, the breakfast place in Hyde Park where he got eggs, bacon and hash browns today. pic.twitter.com/0NcW8vAvTM

— Michael D. Shear (@shearm) May 23, 2014
Obama arrived in Chicago early Thursday evening to attend two fundraisers for U.S. Sen. Dick Durbin's reelection campaign and for the Democratic Senatorial Campaign Committee, according to the Tribune.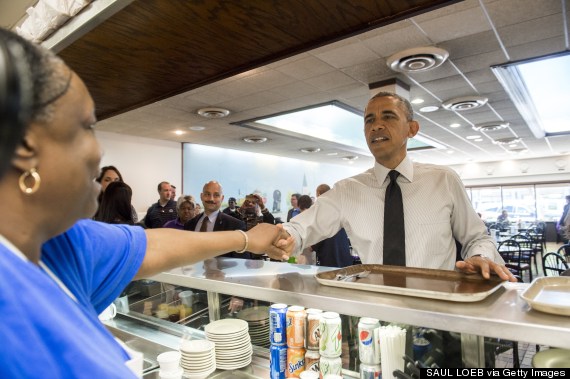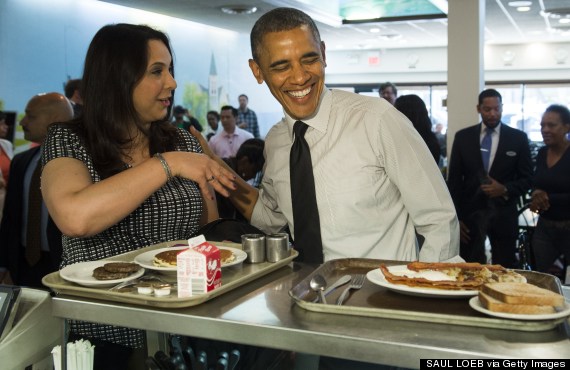 BEFORE YOU GO
PHOTO GALLERY
President Obama Drinking Beer