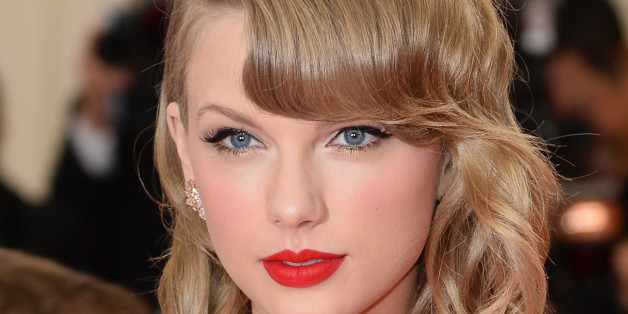 Taylor Swift and red lipstick go hand in hand like a country singer and a good breakup song. It's rare that we ever spot the 24-year-old out and about without her signature lip color, and now we know exactly why.
In a recent interview with People magazine, Swift opened up about her personal style, including her obsession with Oxford-style heels, not sharing clothes with her besties and debunking the beauty myth that she's a red lipstick hoarder.
"I don't have an excessive amount! I just find one I like and use it," she revealed to People. Well, you could've fooled us! Swift added:
"Right now [I'm using] Dragon Girl by NARS … I'll go through different phases with makeup and always try new things. Except I never really get too far from red lipstick, do I? I guess I just think my face looks worse without it. That's pretty much the only rationale behind it."
Excuse us? We certainly can attest to the power that is NARS Dragon Girl and rotating our red lipstick lineup according to our moods, however, we think Swift looks stunning no matter what shade her pout is painted.
Besides, red lipstick NEVER goes out of style and it looks good on every woman no matter her skin tone. While we've heard misguided beauty advice about red lipstick before (yeah, we're calling you out A$AP Rocky!), we want to remind Swift of these lyrics from a fellow blonde that should reinforce her natural beauty:
"You are beautiful no matter what they say. Words can't bring you down ... oh no. You are beautiful in every single way."
BEFORE YOU GO
PHOTO GALLERY
Taylor Swift's Style Evolution