You might think of Memorial Day as just a day off work, a good time to grill and the unofficial kickoff to summer.
Here's a reminder of what it's really about.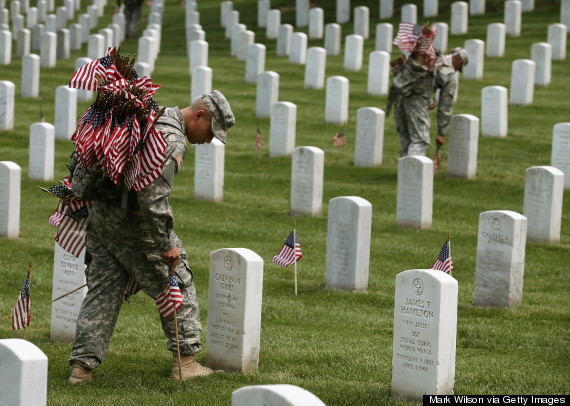 Members of the 3rd U.S. Infantry Regiment, 'The Old Guard,' place flags at grave sites during the 'Flags-In' ceremony May 24, 2014 at Arlington National Cemetery in Arlington, Virginia. A small American flag was placed one foot in front of more than 220,000 graves in the cemetery to mark the Memorial Day. (Photo by Mark Wilson/Getty Images)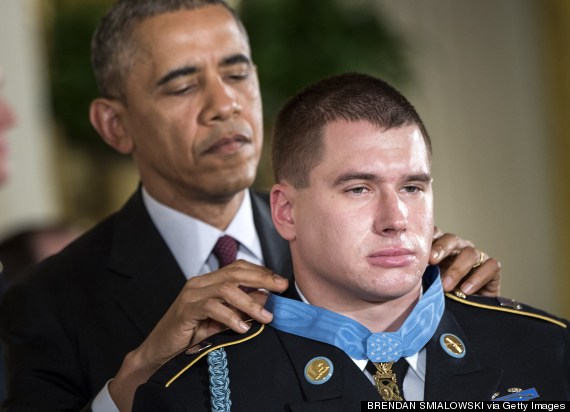 President Barack Obama awards Sergeant Kyle J. White the Medal of Honor during a ceremony in the East Room of the White House May 13, 2014 in Washington, DC. Obama awarded the medal to White for his actions in Aranas, Afghanistan in 2007. (BRENDAN SMIALOWSKI/AFP/Getty Images)

Dave Rowe, right, kisses the headstone of his son Army Sgt. Michael D. Rowe while comforting Rowe's pregnant widow Rebecca Rowe following a Memorial Day service at Florida National Cemetery in Bushnell, Fla., Monday, May 29, 2006. Rowe, 23, was killed March 28, 2006, after a roadside bomb detonated near his Humvee in Rutbah, Iraq. Credit: Chris McGonigal / The Daily Commercial Steven Woods grieves as he receives a flag during a group burial service for his father, Army Staff Sgt. Lawrence Woods, and Air Force Capt. Valmore W. Bourque, Air Force 1st Lt. Robert G. Armstrong, Air Force Staff Sgt. Ernest J. Halvorson, Air Force Staff Sgt. Theodore B. Phillips, Air Force Airman 1st Class Eugene Richardson, Army Pfc. Charles P. Sparks, Friday, March 21, 2014, at Arlington National Cemetery in Arlington, Va. The seven service members, along with 1st Lt. Edward J. Krukowiski, were aboard a C-123 Provider aircraft that crashed on Oct. 24, 1964, when it was struck by enemy fire while resupplying the U.S. Special Forces camp at Bu Prang, Vietnam. (AP Photo/Alex Brandon)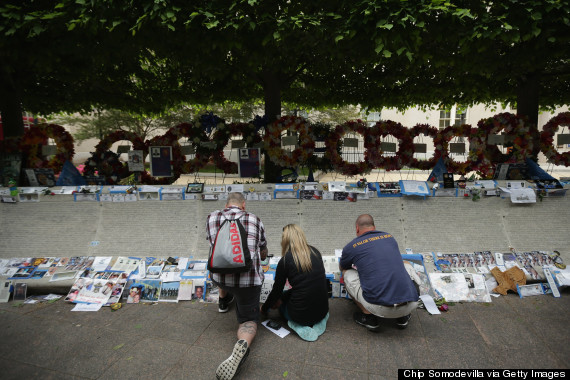 People kneel in silence while reading some of the thousands of names carved on the memorial wall at the National Law Enforcement Officers Memorial May 14, 2014 in Washington, DC. (Photo by Chip Somodevilla/Getty Images)
A little girl is surprised by her dad, who returned from Afghanistan around the time of her third birthday. (Posted to YouTube by Joshua Carr.)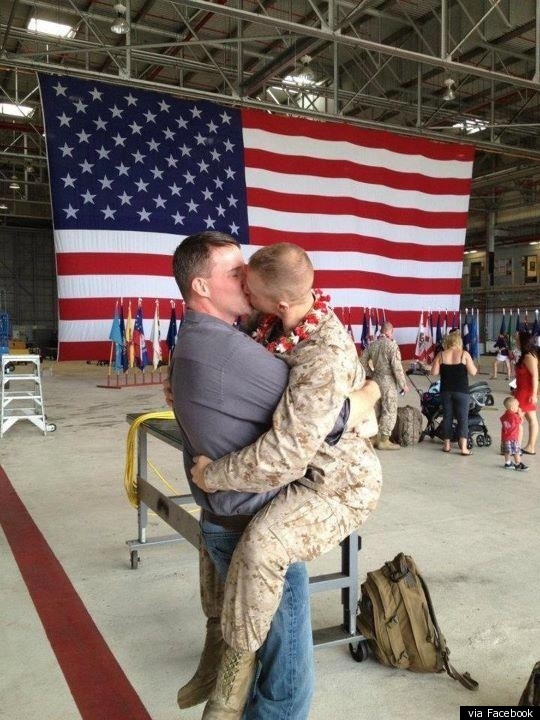 A homecoming photo of a U.S. Marine kissing his boyfriend. (Posted to Facebook by Gay Marines.) World War II veteran Robert Case, who was a captain in the US Army Air Corps, salutes as he sits next to his daughter, Leila Case, right, at Veteran's Day ceremonies, Monday, Nov. 11, 2013, the Vietnam War Memorial in Eden Park in Cincinnati. (AP Photo/Al Behrman) Army honor guard members lift to fold the American flag that draped the casket containing the remains of Army Staff Sgt. Thomas A. Baysore, Jr., during the burial service at Arlington National Cemetery, in Arlington, Va., Tuesday, Oct. 15, 2013. According to the Department of Defense, Staff Sgt. Baysore, Jr., 31, of Milton, Pa., died Sept. 26, in Paktya Province, Afghanistan, from wounds suffered when enemy forces attacked his unit with small arms fire during combat operations. He was assigned to 1st Battalion, 506th Infantry Regiment, 4th Brigade Combat Team, 101st Airborne Division, Fort Campbell, Ky. (AP Photo/Manuel Balce Ceneta) Carlos Cruz, right with his son Gabrielle, 11, from the Los Angeles section of Sylmar, arrive to help straighten flags at the headstones of fallen soldiers during the Memorial Day commemoration at the the Los Angeles National Cemetery on Monday May 27,2013. (AP Photo/Richard Vogel)

From the Seattle Mariners tumblr: "Deliver the lineup card to home plate and out steps your dad. Reunited for the first time in 15 months." Arthur Perciasepe pauses at his brother Dominic's headstone at the South Florida National Cemetery, Tuesday, May 20, 2014 in Lake Worth, Fla. The cemetery will host a Memorial Day ceremony on May 26, with about 400 flags in the "Avenue of Flags" on display along the roadways of the cemetery. The flags were donated by families of deceased veterans. (AP Photo/J Pat Carter)

Joseph Ambrose an 86-year-old World War I veteran, watches the dedication day parade for the Vietnam Veterans Memorial. He is holding the flag that covered the casket of his son, who was killed in the Korean War. (Photo posted to imgur by chimeraassassin.) Volunteer Shannon Day of Boston helps to plant some of the 37,000 flags at the Boston Common, Wednesday, May 22, 2014, in memory of every fallen service member from the Revolutionary War to the present. The flags will be on display throughout Memorial Day weekend. (AP Photo/Elise Amendola) U.S. Army Sgt. Chantel Gonzalez plays "Taps" in the rain during a Memorial Day ceremony, Monday, May 27, 2013, at the Sumner Cemetery in Puyallup, Wash. The U.S. flags mark the graves of people buried at the cemetery who served in the military. (AP Photo/Ted S. Warren)
BEFORE YOU GO