Marc Anthony's father was straight to the point when he was a child, "Son, I'm ugly and you're ugly—work on your personality."
Today, the singer has reached international success and is on the cover of next month's Men's Fitness standing strong in dark denim and a military-style button up. Anthony, 45, spoke to Miami's Mix 98 last week about the magazine feature and why he's grateful his father said those words to him as a teen.
"My dad would tell me, 'Son, I'm ugly and you're ugly—work on your personality'," Anthony told Men's Fitness. "I swear to God. I told him a couple of months ago, I said, 'Dad, you remember telling me that when I was little?' He's like, 'I'll tell you that shit today, too!' I think it served me well. I think confidence is a powerful thing."
Miami radio host Enrique Santos light-heartedly recounted the quote and asked if he still agreed with his father's words. Anthony replied, "I consider myself ugly but charming."
After the Salsa star laughed at the topic at hand, Santos asked how someone who doesn't consider himself attractive is able to be with some of the most beautiful women in the world.
"You know what it is? I think it's confidence," Anthony said. "I do not lack confidence. I've been able to do what I do for many years and I think I'm good at it. And that confidence and just being a good person overall, I don't rely on my looks to stand out. It's all in the details."
The "Vivir Mi Vida" singer is currently back with ex-girlfriend Shannon De Lima. But before returning with the 24-year-old Venezuelan model, Anthony had been dating Topshop heiress Chloe Green and had been married to Nuyorican superstar Jennifer Lopez and Former Miss Universe Dayanara Torres.
Anthony also revealed to the radio host that he currently weighed 122 pounds and in his interview with Men's Fitness, the star delved into his years as a thin teenager.
"In Latino culture—back then, anyway—being skinny was seen as a kind of weakness for some reason," he told the magazine. "There were people who would test you."
His build was similar to his father's who, according to the magazine, was an amateur bodybuilder that competed in the 105-pound bantamweight.
"My dad was confident, and I think it takes somebody like that to weigh 105 pounds and enter a fucking bodybuilding contest," Anthony told Men's Fitness, adding that this was the lesson his father taught him. "So what I never lacked was confidence."
During his chat with Enrique Santos, Anthony also revealed that he'd been working with RedOne for the last two years and had around 15 songs he's planning to use on his English-language album. The star says the record could be released "later this year or early next year."
Check out the singer's interview with Mix 98 above and take a look at Anthony's Men's Fitness cover below.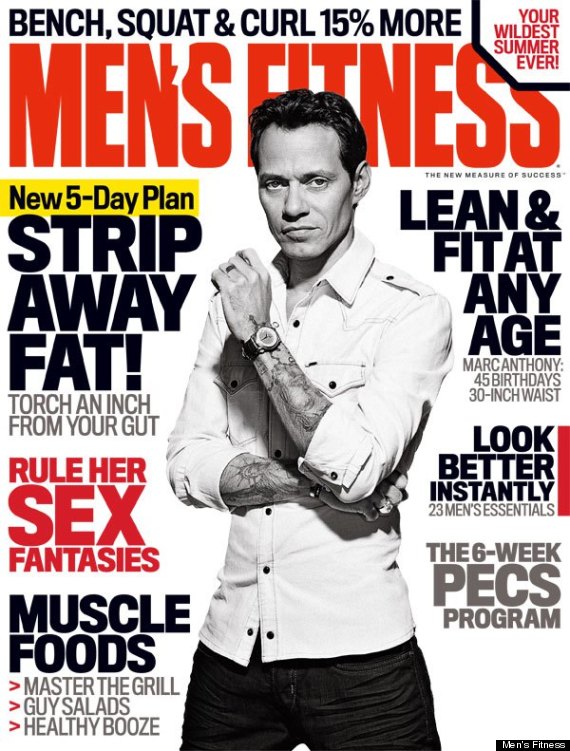 BEFORE YOU GO
PHOTO GALLERY
Marc Anthony