Ah, the typical New York fashion show: Stoic models (who kind of scare you) run down the catwalk to wordless music, editors can't wait to get out of the room as soon as the show is over, and the entertainment value is whoever falls down.
But, like a breath of fresh air on the trade winds, there's the Hawaii fashion show, where the vibe feels more like one big ohana rather than a gathering of elite hipsters. Take, for example, the models at last week's Wearable Art show for Maoli Arts Month in Honolulu (a celebration of maoli, or native, Hawaiian arts and culture):
They aren't all frightfully thin, but toned and athletic. They wave directly at you with a genuine smile (because they're probably your cousin's girlfriend's mom), and people clap and hoot for them just as much as they do for the designs.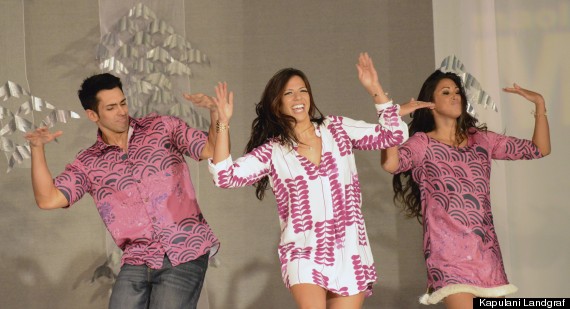 The Wearable Art show, as seen in the video below, features Hawaiian designers Lauwa'e, Manuheali'i, Marques Marzan (who designed abstract textiles out of breadfruit, silk, hemp, and kapa fibers using the Hawaiian lauhala technique), and a powerful performance from designer Manaola Yap, with his sister, Asialynn Kalihilihiula Yap, performing a 17th-century drum chant.
What makes these Hawaiian designs so unique is how they carry longstanding native tradition into clothes you can actually wear. Yap, the designer behind Manaola Hawaii, told the Huffington Post, "My sister dances an ancient dance, speaking of all the host deities, then the next thing you know, she's wearing a couture dress and modeling. That's the beauty of Hawaiian fashion; the clothes have a deeper sense of spiritual connection."
"The thing about being a Hawaiian fashion designer in Hawaii is that we're so closely connected to our culture and lifestyle," Danene Lunn, designer and creator of Manuheali'i, told the Huffington Post. "So we infuse as much as we can to be relevant in both worlds."
Maybe it's time to put Hawaii on the fashion map, because obviously, it's come a long way from aloha shirts and flip flops:
BEFORE YOU GO
PHOTO GALLERY
Hawaii In Photos