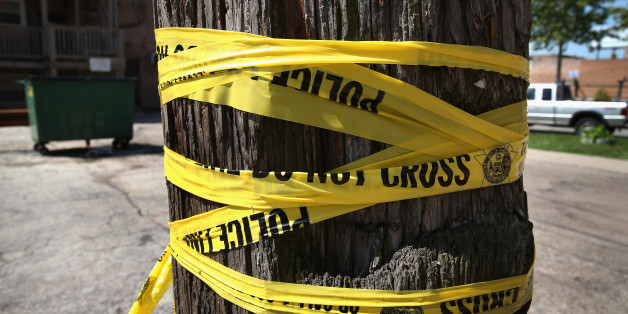 A routine interview took a grimly ironic twist when a National Public Radio reporter covering guns in Chicago found himself not just close to the action, but virtually in the thick of it.
While visiting the Englewood neighborhood Wednesday afternoon, David Schaper's interview with community activist Asiaha Butler was interrupted by a flurry of gunfire that sent some bystanders running and left others simply "bewildered."
Describing a scene he later called "surreal," Schaper said a man was "standing outside a car firing a large semi-automatic rifle at a target around the corner" about 30 or 40 yards from Butler's porch.
Schaper had initially visited the South Side neighborhood to report on Mayor Rahm Emanuel's recent proposal to require all gun sales in the city be videotaped to help combat illegal gun sales and transfers.
Butler can be heard in the audio exclaiming "Oh my Jesus!" as multiple shots ring out.
Schaper notes an ice cream truck playing "cheerful" music rolled by as police rushed to the scene.
Demond Drummer, another neighborhood leader, told Schaper he was "embarrassed" by the timing of the shooting, and insisted it wasn't a typical occurrence.
"It's far too common, but it's not normal," Drummer told Schaper.
The shooter was apparently aiming for a nearby van, and struck a 28-year-old male passenger inside, DNA Info reports. The victim, reportedly a documented gang member, was left with a bullet lodged behind his ear.
Galvanized by the incident, Butler later took to social media pledging her dedication to improving the neighborhood's safety, and calling on others to do the same.
BEFORE YOU GO
PHOTO GALLERY
Obama's Executive Actions On Gun Violence