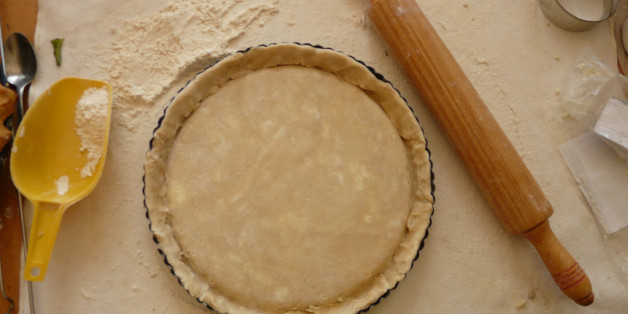 There are some baking tools that are essential in a baker's kitchen, like a rolling pin. Others are kept around more for looks than use, like a sifter. (Let's be honest, many of us tend to skip this step in a recipe even though we know we shouldn't.) And then there are some baking tools that are losing their place in our kitchens when they shouldn't. The pastry cloth belongs in that category.
The pastry cloth is a simple kitchen tool, but it serves an important purpose. While it's not much more than a thick piece of cotton canvas placed on your work surface, it makes the job of kneading bread or rolling out a pie dough a lot less messy, and a little easier too.
With a pastry cloth, dough is less likely to stick and will absorb less flour. When stored in the freezer, it makes the job of keeping pie dough cold even more feasible. The pastry cloth also takes the work out of cleaning up flour because you can just pick up the cloth and dust it off over the sink once you're done. Plus, it's reusable -- which makes it a simple green practice you can incorporate into your baking, like so many old fashioned cooking methods.
But it's not just the pastry cloth's practicality that gives it a deserving place in our kitchens -- it's its small yet significant role in our history that makes it something worth holding on to. We recently spent a couple of days listening to great chefs and food writers speak at The Southern Food Writing Conference, and we learned a thing or two about the pastry cloth.
We learned that the pastry cloth was a way to pinch pennies, to avoid waste and to make food stretch. This was especially important during the hard times of the Great Depression, when even a tablespoon of flour was to be treasured. This simple cloth gathered flour, and once the cloth was beaten out into a canister, the flour was retrieved from the cloth. It allowed home cooks to make use of every ounce of food they had, when every little bit made a difference.
While the country isn't suffering as it was 80 years ago, and throwing out a bit of flour doesn't mean now what it did then, having the reminder to not be wasteful, but rather be mindful of our ingredients, feels like the most important tool we could have in our kitchens -- and our lives in general. So go get a pastry cloth -- it might set you back $10 but it'll last you a lifetime.
Want to read more from HuffPost Taste? Follow us on Twitter, Facebook, Pinterest and Tumblr.
BEFORE YOU GO
PHOTO GALLERY
Pie Recipes