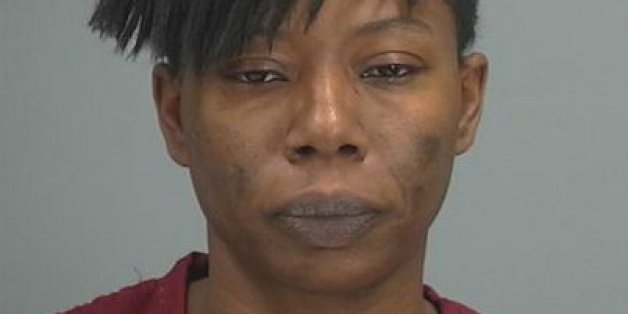 The mother of a teenage burglary suspect is behind bars herself after allegedly punching a sheriff's sergeant who was trying to charge her son.
The Saturday night incident began when sheriff's deputies in Pinal County, Arizona saw three teens walking and recognized two as possible suspects in several recent residential burglaries, AzStarNet.com reports.
The deputies took suspects Jesse Samano, 16, and Kenneth Mosley, 17, into custody for questioning.
Samano was questioned with his mother present and admitted to committing the burglaries with Mosley, police claim. He was released to the custody of his mother and faces burglary charges.
Mosley was about to be question when his mother, Sanqusia Johnson, 37, arrived with her boyfriend, Genaire Roberts, 42, at the Arizona City substation.
Investigators say Johnson was confrontational with officers when her son was being questioned and that she had to be restrained.
When a supervisor tried to walk her away from her son, she allegedly struck the deputy in the face with her hand,
Roberts then allegedly grabbed on to Johnson to prevent her from being handcuffed, AzCentral.com reports.
Both Roberts and Johnson were taken into custody. Johnson was booked into the Pinal County Jail on charges of aggravated assault on a law enforcement officer, disorderly conduct and obstruction of a governmental operation, KPHO.com reports.
Roberts was cited and released for obstruction of a governmental operation. According to Pinal County Sherrif Paul Babeu, Roberts allegedly told a deputy that when Johnson "acts like that at home he just leaves until she calms down," according to AzStarNet.com.
Moseley was referred to juvenile court on the burglary charges.
Like Us On Facebook |

Follow Us On Twitter |

Contact The Author
BEFORE YOU GO
PHOTO GALLERY
Questionable Parenting