Claire Shipman, co-author of The Confidence Code, shared some valuable insights about the mistakes women make in the workplace—often unknowingly—that can undermine their confidence.
"The biggest mistake is perfectionism. Women are so focused on getting it right all the time," Claire explained.
The emphasis women place on perfectionism eats away at another essential workplace skill: risk-taking. Claire explained that all too often, women are not willing to take a risk or seize an opportunity unless they feel they can do it perfectly.
According to Claire, studies show that women only apply for promotions at work when they feel they have 100% of the qualifications, whereas men will ask even if they feel they only meet 60% of the qualifications.
"The other thing is the real fear of failure, which is the flip slide of perfectionism," Claire told us.
Claire feels that women need to get comfortable with the idea of failing rather than being perfect at every task taken on, as men can often shrug failure off more easily and learn from it.
"We need to take the spotlight off of ourselves and think about our mission in bigger terms," Claire said.
"That is where the power comes from."
How confident are you? Take the Confidence Quiz here to find out now!
For more of Claire's expert confidence tips, view the slideshow below:
PHOTO GALLERY
Confidence Boosting Habits From Claire Shipman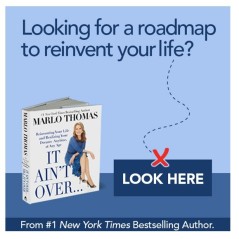 Add Marlo On Facebook:
Follow Marlo on Twitter:
Sign up to receive my email newsletter each week - It will keep you up-to-date on upcoming articles, Mondays with Marlo guests, videos, and more!