 A new poll finds a huge, bipartisan majority reacts favorably to newly proposed federal limits on greenhouse gas emissions. Americans don't even support an apology for slavery, much less reparations. And another week, another set of primaries. This is HuffPollster for Monday, June 2, 2014.
WIDE BACKING FOR CARBON REGULATION, EVEN AT A COST - Scott Clement and Peyton M. Craighill: "A lopsided and bipartisan majority of Americans support federal limits on greenhouse gas emissions, according to a new Washington Post-ABC News poll that also finds most are willing to stomach a higher energy bill to pay for it. Fully 70 percent say the federal government should require limits to greenhouse gases from existing power plants, the focus of a new rule announced Monday by the Environmental Protection Agency. An identical 70 percent supports requiring states to limit the amount of greenhouse gas emissions within their borders. Democrats and Republicans are in rare agreement on the issue….The cross-party agreement extends to a willingness to pay for such limits with higher energy bills, a flashpoint for debate and a key area of uncertainty in new regulations. Asked whether Washington should still go forward with limits if they "significantly lowered greenhouse gases but raised your monthly energy expenses by 20 dollars a month," 63 percent of respondents say yes, including 51 percent of Republicans, 64 percent of independents and 71 percent of Democrats." [WashPost]
Younger Americans more supportive - Gary Langer: "Perhaps surprisingly, regulations that raise energy costs by $20 a month win majority support across income groups, ranging from 71 percent among those with incomes of $100,000 or more to 60 percent among those with incomes less than $50,000. There's also a sharp difference by age, with higher costs acceptable to 74 percent of young adults, age 18 to 29, but dropping to 52 percent among those 65 and older. Seniors are more apt to be on fixed incomes, but there's another factor as well – they're also 14 percentage points less likely than young adults to see global warming as a serious problem in the first place, 60 vs. 74 percent." [ABC]
'What about red states?' - Greg Sargent: "It turns out that even in red states, support for federal curbs on greenhouse gas emissions is almost as widespread as among Americans overall. According to data that the Post polling team sent my way, there just isn't any significant difference between red and blue state residents on this issue:...Americans overall say by 70-21 that the federal government should limit the release of greenhouse gases from existing plants to reduce global warming. In 2012 red states, those numbers are 68-24. In 2012 blue states, they are 72-20. [WashPost]
One thing missing - While the questions tested by the Post/ABC poll are a fair effort to gauge reactions to the substantive proposals announced on Monday, they leave out one name included in the lead or headline of virtually every story reporting the announcement: President Barack Obama. If respondents had been asked to react to the proposals as explicitly endorsed by the Obama administration, the reactions would likely have been more predictably partisan. [See HuffPost]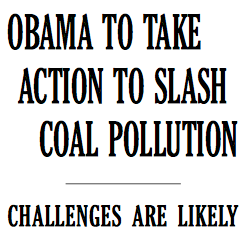 A similar note of caution - From a summary of climate change attitudes by Allison Kopicki: "Poll questions...often struggle to convey the political arguments on both sides of the climate debate — which may mean that climate proposals fare less well in actual political debates than in polls. For instance, a cap-and-trade program for carbon emissions — the plan the Obama administration favors to reduce carbon emissions — is notoriously difficult to ask about in polling. Few Americans have heard of the policy, which provides pollsters with the dilemma of asking a question that provides an explanation of the issue or asking a question that has minimal detail, relying on what the respondent can bring to the question. In December, the Stanford/USA Today survey randomly assigned respondents to one of three different questions on the policy, all of which explained a cap-and-trade system. Support ranged from 48 percent to 70 percent. Yet none of the questions warned that consumer prices may rise — the main argument opponents make against cap-and-trade." [NY Times]
LOOKING AHEAD TO TUESDAY'S PRIMARIES - Amanda Terkel and Sam Lachman: "The candidates competing in Tuesday's primaries have certainly had colorful paths to Election Day. There's been talk of castrating pigs, a bizarre scandal involving a woman with dementia and comparisons of food stamp recipients to wild animals. Eight states have elections Tuesday: Alabama, California, Iowa, Mississippi, Montana, New Jersey, New Mexico and South Dakota. The most-watched Senate primary is in Mississippi, where the tea party had hoped to unseat Sen. Thad Cochran (R). The race, however, has become dominated by a scandal involving the exploitation of the senator's bedridden wife…. In recent weeks, [Iowa] state Sen. Joni Ernst has taken the lead in the polls in the crowded GOP primary to replace Sen. Tom Harkin (D-Iowa). She gained national prominence after an ad entitled 'Squeal,' in which she talked about castrating pigs….The nonpartisan [California gubernatorial] primary, in which the top two vote-getters advance regardless of their party affiliation, may have ramifications beyond determining which candidate faces Gov. Jerry Brown (D) in November. Republicans reportedly fear that if conservative state Assemblyman Tim Donnelly (R) makes it past the primary, his anti-immigration stance could drive Democratic voters to the polls, upending competitive down-ballot races across the state." [HuffPost]
More on what to watch for
-Republicans Neel Kashkari and Tim Donnelly are tied for second place behind Gov. Jerry Brown in California's open primary. [USC]
-Pollster Patrick Murray handicaps New Jersey's primary races. [Monmouth]
-Daily Kos previews several key primaries. [Daily Kos]
-Nate Cohn says the Tea Party-versus-establishment fight in the Mississippi Republican primary reflects an old ideological split. [NYTimes]
-Stu Rothenberg finds support for Thad Cochran in the Mississippi Delta. [Roll Call]
-In Iowa, a Des Moines Register poll gives Joni Ernst (R) a wide lead over primary rival Mark Jacobs. [DMR]
-Suffolk's poll of "bellwether" counties in Iowa and Montana has good news for Joni Ernst (R), John Walsh (D) in their primaries. [Suffolk]
MOST AMERICANS WANT GUNS BANNED IN SHOPS, RESTAURANTS - Emily Swanson: "Most Americans prefer that shops and restaurants forbid guns, a new HuffPost/YouGov poll found. According to the poll, 55 percent of Americans prefer that retailers and restaurateurs don't allow guns, while only 32 percent prefer that they do. The poll found a partisan divide, with a no-gun policy preferred by Democrats 72 percent to 19 percent, and by independents 48 percent to 34 percent. Republicans said they preferred establishments that allow guns 50 percent to 41 percent. Sixty-four percent of gun owners said they prefer that businesses allow guns, but 63 percent of those who live in a household with someone who owns a gun and 65 percent of those with no guns in their household said they prefer the opposite." [HuffPost]
LITTLE SUPPORT FOR REPARATIONS - Swanson: "In a cover story in The Atlantic last week, Ta-Nehisi Coates built a powerful argument for the U.S. government making reparations to black Americans, not just for the impact of slavery but also for the generations of legalized (and in some cases legally mandated) discrimination that made it impossible for most black families to amass wealth. But a new set of HuffPost/YouGov polls suggests that most Americans aren't prepared to take the step of making reparations, either for slavery alone or for the century-plus of institutionalized racism that followed. In one survey, Americans said by a 68 percent to 15 percent margin that the government should not make payments to black Americans who are the descendants of slaves. Americans were somewhat more likely to say they would support reparations for slavery if they came in the form of education or job training programs, but still rejected the idea by a 57 percent to 27 percent margin. Public opinion on the issue appears unchanged in the past decade: In a CNN/USA Today/Gallup poll conducted in 2002, just 14 percent of Americans said they would support making cash payments to slaves' descendants." [HuffPost]
MOST SUPPORT EMPLOYER CONTRACEPTION MANDATE - Public Religion Research Institute: "The PRRI Religion and Politics Tracking Survey, conducted by Public Religion Research Institute (PRRI), finds majorities of Americans believe that publicly held corporations (61 percent) and privately owned corporations such as Hobby Lobby (57 percent) should be required to provide contraception coverage at no cost to their employees. Majorities also believe that religiously affiliated hospitals (56 percent) and religiously affiliated colleges (52 percent) should be required to abide by the so-called contraception coverage mandate. Americans are more divided over whether privately owned small businesses should have to meet this requirement (51 percent agree, 46 percent disagree). Only 42 percent of Americans, however, think that churches or other houses of worship should be required to provide health insurance with contraceptive coverage, while 53 percent are opposed." [PRRI]
HUFFPOLLSTER VIA EMAIL! - You can receive this daily update every weekday via email! Just click here, enter your email address, and and click "sign up." That's all there is to it (and you can unsubscribe anytime).
MONDAY'S 'OUTLIERS' - Links to the best of news at the intersection of polling, politics and political data:
-House Republicans guts Census funding; Market Research Association (MRA) says funding would be insufficient to conduct the American Community Survey (ACS). [MRA]
-U.S. consumer spending hits a six-year high. [Gallup]
-John Sides explains to Chris Cillizza why his model gives Mitch McConnell (R) a 97 percent chance of winning. [WashPost]
-In a podcast interview, Brendan Nyhan discusses how to fight false ideas. [The Communications Network]
-Micah Roberts (R) looks at the intersection between economically disillusioned and politically disaffected Americans. [POS]
-A GQR (D) poll for Gabrielle Giffords' pro-gun control group finds support among Texans for both background checks and open carry. [Houston Chronicle]
-Americans are more opposed to than supportive of Edward Snowden's actions. [Yahoo]
-Frank Newport ponders why attitudes on the Affordable Care Act appear so negative and immutable. [Gallup]
-Lee Miringoff explains why Marist doesn't model likely voters months this early. [Marist]
-Rasmussen gives Tom Wolf (D) a 20-point lead over incumbent Pennsylvania Gov. Tom Corbett (R). [Rasmussen]
-By 2019, Pennsylvania will have spent 15 percent of its time as a state governed by someone named Tom. [Philadelphia Inquirer]
-A study finds that people are more frightened by male than female hurricanes -- but there are some caveats. [WashPost, National Geographic]