 You don't have to look far back to remember when the Oklahoma City Thunder was the darling of the NBA. Kevin Durant, Russell Westbrook and the scoring greatness of James Harden represented a triumvirate trio of elite talent sure to bring championships.
But fast forward several years, and the team appears stuck in neutral: Harden is long gone, Westbrook is the dynamic and unrelenting talent, and Durant is the respectful MVP who doesn't assert himself when it matters the most. And, despite another brilliant regular season, the league's highest-scoring tandem came up short in the playoffs.
The question now is not how many titles the team can amass, but if it has the right pieces in place. Start with head coach Scott Brooks: He's an NBA veteran who overachieved for years as an undersized point guard, but his coaching style lacks creativity and change. The Thunder rely heavily on Durant and Westbrook -- both 25 years old -- as the team should. But without Harden, a key issue has been the third option. Is it Serge Ibaka or Reggie Jackson? Is it even possible to have a third scorer with both of those guys on the floor? There are games which Durant and Westbrook will flat-out win on their own -- but as the San Antonio series proved to us, having two premier scorers is not enough.
Brooks, despite his point guard pedigree, has little idea how to effectively run a balanced half-court offense. Meanwhile, the spurs have a great team defense, and they forced Durant away from the basket. Brooks was unable to counter with basic sets to free him. More importantly, the coach again this season was unable to harness the volatile Westbrook enough for him to grasp that the offense has to run through the MVP. The hierarchy of this team should be Durant as the focal point, and it's borderline absurd that the All-NBA point guard (who went 8-23 from the floor in the Game 6 Spurs loss) still hasn't figured this out. It's even worse that the head coach hasn't. Simply put, Brooks (pictured below) needs to go before the Thunder wastes more of Durant's youthful brilliance.
As you may now, trading away a superstar in this league is not only foolish, but it's also incredibly rare. It's hard enough to have one, and OKC is fortunate to have two. So if the team can't trade Westbrook, what can it do?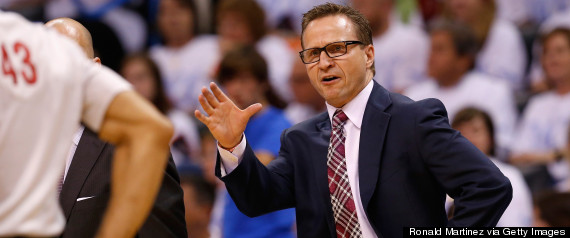 The Thunder should be looking for two things right now: a dominant, low-post defender alongside the improving Ibaka, and a legitimate third scorer. Rookie 7-footer Steven Adams is only 20 years old and still very raw, but he has all of the tools to be a top-notch rim protector who isn't an offensive liability. Develop him further and let his robust talent do the rest. As for a third scorer, Jackson and the gifted 22-year-old Jeremy Lamb are highly capable. That means that the two most important elements left to fill are already on this roster.
As for Brooks, he needs to work on discipline. For comparison, what is so special about Spurs coach Gregg Popovich is how he is willing to adapt to his personnel, and doesn't merely force his personnel to adapt to him.
On a team like the Thunder, the ancillary parts are not as hard to fill, but it starts with addition by subtraction. GM Sam Presti has to amnesty Kendrick Perkins, a salary albatross (owed another $9.4 million) who offers nothing on offense and little on defense. The move should have been made a year ago -- it really needs to be made now. Next, the team shouldn't retain free agent Thabo Sefolosha. Not only did his 3-point shooting suffer in his contract year, but his defense did too. Lamb can be a far better version and comes on a discounted rookie contract.
When it comes down to it, however, the NBA remains a superstar league, and the "whose the alpha dog" question between Durant and Westbrook cannot continually go unanswered if this team wants to win titles. Go back 30 years, in fact, and only eight franchises have won titles. Every one of those teams had at least one superstar, with the lone exception perhaps being the 2004 Detroit Pistons and their five All-Stars.
As ESPN.com's advanced stats point out, only three championship teams ever have had two players each using more than 30 percent of their team's possessions. The Lakers with Kobe Bryant and Shaquille O'Neal was the first, followed by the Miami Heat with Shaq and Dwyane Wade, and one version of the LeBron James-Wade teams.
To put it in perspective for the Thunder, Westbrook's usage rate was 37 percent over the first five games against Memphis, representing one of the highest playoff usage rates in NBA history. Where that leaves Durant and the future of this team is not on the path to greatness.
Email me at jordan.schultz@huffingtonpost.com or ask me questions about anything sports-related at @Schultz_Report and follow me on Instagram @Schultz_Report. Also, be sure and catch my NBC Sports Radio show, Kup and Schultz, which airs Sunday mornings from 9-12 ET, right here.
BEFORE YOU GO