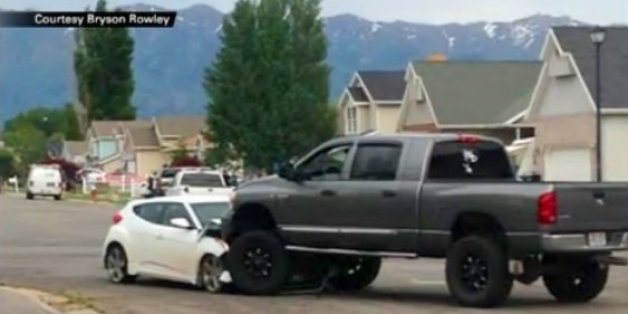 Dramatic raw video captures the moment the driver of a pickup truck put an end to a reckless joyride that threatened the lives of children.
It started Saturday after police said a 14-year-old allegedly stole his grandfather's Hyundai in Duchesne County, Utah, then drove the car nearly three hours to Syracuse, Utah. Police said he lead officers on a high-speed chase through a park heavily trafficked by children:
Police temporarily suspended their chase for fear of the people in the park. Witnesses said that the stolen car turned around and headed back toward the park. That's when a civilian behind the wheel of a Dodge Ram pickup truck intervened:
"The person driving the truck could see it was turning back into the park, and he did not want the car to hit all of the children, or any of the children, and he actually pulled his truck in the way so the car collided with the truck," Syracuse Police Department spokeswoman Officer Erin Behm told Fox 13 News.
Bryson Rowley, the driver of the truck, told the station that he acted out of fear that the car would hit the children in the park.
Miraculously, no one was hurt in the collision. Jalopnik pointed out that Rowley was "operating in a moral grey area by taking such aggressive action," and offered the following assessment:
Causing an accident to avoid a hypothetical one was a big risk, but the kid in this Hyundai was putting way too many people in serious danger to be allowed to carry on. And since the occupants of both vehicles did walk away, it seems like road-blocker had enough skill with his truck to crash it in relative safely. Or he got lucky.
The teen driver of the Hyundai was taken to a juvenile detention center. At this time, it is unclear if charges have been filed.
BEFORE YOU GO
PHOTO GALLERY
Top Mug Shots Of 2013