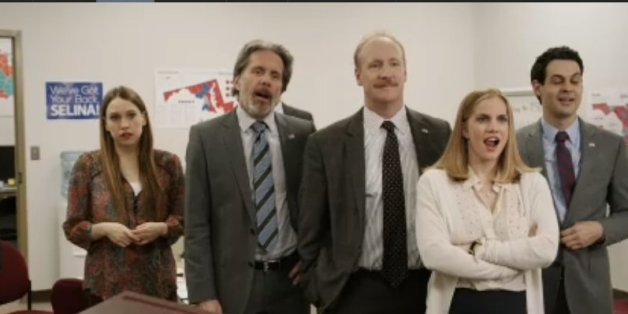 "Veep" Season 3 Episode 8 featured the absolute worst political debate in history. Drain plugs, eye twitches, loop (and legitimate) holes and that one forgotten R left all the candidates broken and battered as baseball coach Joe Thornhill pulled ahead in the polls. Selina got a terrible haircut, Dan came back from that mental breakdown and one speechwriter sucked.
Here are the best one-liners -- including one great Jonah diss -- from "Debate."
Mike McLintock
Of course I don't like it, Gary. It's the worst use of scissors since my vasectomy.
Think of all the lesbian jokes we're going to have to suffer. Strap on Selina. Seline Navratilova. Fingering the dyke.
That's what marriage is, a conflict of interests.
Dan Egan
I did not need to be cured, Michael. I diagnosed myself with an acute case with Everything's Gonna Be Fine.
Go fuck yourself Jack in the Giant Fruitstalk.
Kent Davison
I don't enjoy touching children's faces, Dan. Neither should you.
World's worst boy band member ever, right there.
Amy Brookheimer
If there is any dirty trick that I cannot stand, it's honesty.
Selina Meyer
My position has always been clear on immigration. What the fuck was that thing?
Catherine Meyer
What is it with you guys? It's like flirting but sexless.
Ben Caffrey
Thank God for twitchy, he really saved that. Love that little guy.
BEFORE YOU GO