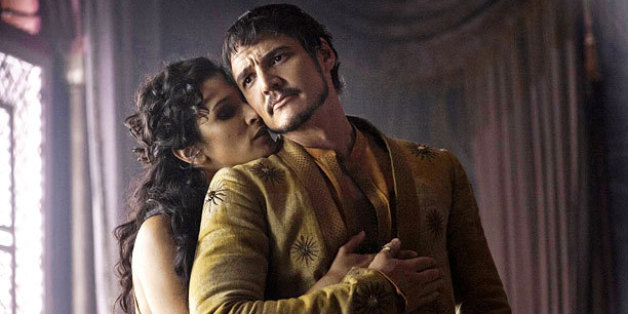 WARNING: This post contains SPOILERS. Read no further if you have not seen the Game of Thrones episode "The Mountain and the Viper."
If the name Inigo Montoya didn't cross your mind during Sunday's epic "Game of Thrones" fight between The Mountain and the Red Viper, you didn't have a childhood -- or you probably just never watched "The Princess Bride."
The Spanish fencer (played by Mandy Patinkin) was hell-bent on avenging his father's death in the 1987 film -- continually repeating "My name is Inigo Montoya. You killed my father. Prepare to die." during his final fight scene -- but the character shared more than just a thirst for revenge with Oberyn Martell.
Chilean-born actor Pedro Pascal, 39, who brought the hot-headed and hypersexual Dorne prince to life in the hit HBO series, recently spoke to Entertainment Weekly about his character's accent and how he trained for the gruesome battle that continues to plague the nightmares of so many fans.
Those who follow the TV series will likely always equate Oberyn with a sultry Spanish-esque accent, but aficionados of the book series will note that the Red Viper's manner of speaking isn't characterized in that way.
The truth is that Pedro Pascal decided to give his character the Latin-styled accent, despite the fact that the actor himself does not speak with one.
"A couple people have acknowledged I speak with an American accent," Pascal told EW about his interactions with "Game of Thrones" fans. "I hope they're not too disappointed."
When asked about how he'd feel if later in the series more characters from Dorne would be forced to use the accent, the actor said he'd feel "a little guilty."
"I'm sure they will find actors who will bring their own sound to it," Pascal told the site. "Hopefully they will not force them to abide by my bi-warrior Latin lover accent."
As a fan of the show, Pascal also admitted to poring over the ten episodes of the season before flying to Europe to join the cast.
"I read all the episodes back to back, really, really quickly," the Chilean actor told Vulture. "And when I got to my final episode, I was really impressed by how similar it was to the scene in the books."
In Sunday's episode, Tyrion Lannister's trial-by-combat was a roller coaster of emotions for fans of the series as he faced The Mountain, played by the third strongest man in the world Júlíus Björnsson.
Pascal described how he trained to bring to life the The Red Viper's unique fighting style and to master Oberyn's iconic spear.
"They put me in training with this guy Master Hu in L.A., actually, a few weeks before I flew out to set," Pascal told Vulture. "He's a master of Wushu, which is an acrobatic martial art. We used these really long bamboo sticks, and he started teaching me the basics, the possibilities of moves in a fight, stuff like that, and it's a lot of twisting of the body while propelling a spear around."
"And I'd go to practice on my own. I bought a curtain rod from Home Depot, and I had this empty apartment, because I just got this lease on a new apartment in Los Angeles... So I had all this space to learn this one particular move of helicoptering the spear and getting it to make this whooshing noise," the actor added, laughing. "So I practiced that in the empty apartment and whacked myself in the face quite a bit."
BEFORE YOU GO
PHOTO GALLERY
'Game Of Thrones' Season 4