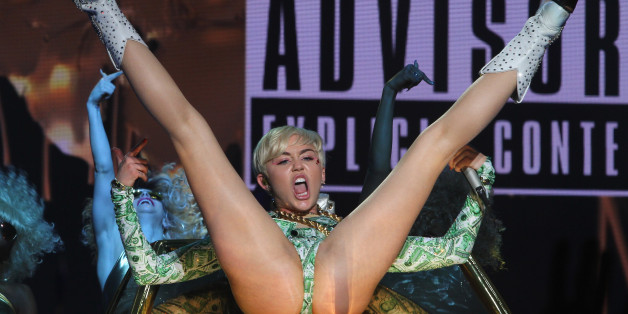 Ever since she kicked off her Bangerz tour in February, Miley Cyrus continues to make headlines with her outrageous onstage antics. Whether she's riding a giant hotdog, putting a fan's thong in her mouth or performing in her underwear, Cyrus has managed to shock and outrage with each and every performance. But is the queen of twerking really all that wild?
Sure, Miley shows some skin in Bangerz, but she's not the only one. As part of her artRave: The ARTPOP Ball tour, Lady Gaga strips naked and does an entire costume change onstage:
Madonna, too, had a striptease segment in her 2012 MDNA tour. While performing "Human Nature," Madonna stripped down and sometimes encouraged the audience to throw money at her for charity. In this particular clip from 2012, she takes it off and asks for donations for Hurricane Sandy victims:
Britney Spears famously gave lap dances on her Femme Fatale tour in 2011, but she's progressed to kinkier levels with light bondage in her Las Vegas show. While performing her song "Freakshow," Spears makes one lucky audience member -- Nicole Richie, Lance Bass and Mario Lopez have been among them -- strap on a leather harness and dog collar. Once they're suited up in leather dog attire, Spears walks them across the stage, lightly smacking them with a leather crop:
And if you find Miley's gyrating offensive, you definitely don't want to see Rihanna live. On her Loud tour in 2011, Rihanna gave more than your average lap dance to a random audience member each time she performed "Skin." Here's a compilation video of a handful of the fans she grinds up on:
Nicki Minaj took things to the next level, as she has the tendency to do, developing her own alter-ego strictly based on the lap dances she gave at Lil Wayne's "I Am Music II" tour. Here's a compilation of her straddling fans onstage:
Perhaps Cyrus got her inspiration to ride a hot dog from the 2008 MTV Europe Music Awards, when host Katy Perry sat atop a giant banana. If the innuendo wasn't obvious enough, Perry told the crowd, "Girls, remember, it isn't how big the banana is, it's how you sit on it":
Of course Bangerz is lewd, cartoonish, and anything but kid-friendly. After all, no child should witness Miley Cyrus simulating fellatio on a Bill Clinton impersonator. But Cyrus is not the first pop star to get raunchy in front of a crowd, and she certainly won't be the last.
BEFORE YOU GO
PHOTO GALLERY
Miley Cyrus Brings 'Bangerz' Tour To London