While most readers who picked up this week's People magazine featuring Hillary Clinton may have noticed her bold blue necklace or the nod to her future presidency, the Drudge Report was focused on another thing entirely: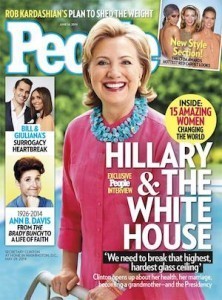 PHOTO: IS CLINTON HOLDING A WALKER? http://t.co/gvOS7VxEVq

— DRUDGE REPORT (@DRUDGE_REPORT) June 4, 2014
GASP!
Short answer: nah.
@DRUDGE_REPORT It's the back of a chair

— Stefan Becket (@stefanjbecket) June 4, 2014
But Drudge isn't alone. Other news outlets had their own theories on People's intentions behind the cover. The Washington Free Beacon wondered if the cover was a "subtle attack" on Clinton.
Is PEOPLE Magazine subtly attacking Hillary Clinton's age? http://t.co/aOTSrW38WF pic.twitter.com/zAKdLG6TSm

— Andrew Stiles (@AndrewStilesUSA) June 4, 2014
The Wall Street Journal even had a piece confirming that the object in question was NOT a walker, which received quite a bit of backlash.
Raising eyebrows...to roll our eyes RT @WSJPolitics: Is that a walker? Hillary Clinton's latest magazine cover is raising eyebrows

— Taj Magruder (@TajMagruder) June 4, 2014
@WSJPolitics ur gross

— Kate Spencer (@katespencer) June 4, 2014
@wsjpolitics And headlines like that are causing face-palms.

— Fed Up Republican (@FedUpGOPer) June 4, 2014
@WSJPolitics raising eyebrows at the failure of media, then yes

— Matthew Kitson (@mwk89) June 4, 2014
@WSJPolitics Morons.

— Brian Doyle (@lowellfield) June 4, 2014
Really? RT @WSJPolitics: Is that a walker? Clinton's latest magazine cover is raising eyebrows http://t.co/lxA1me78Ue pic.twitter.com/DPxAizyvCX

— Andrew Kaczynski (@BuzzFeedAndrew) June 4, 2014
(h/t: FishBowlNY)