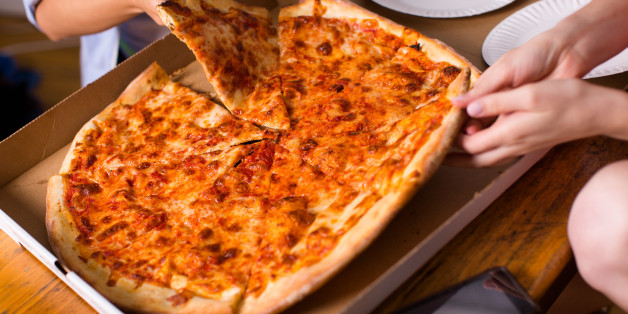 Every day, people with problems big and small seek help from social media sites. Some people seek organ donors. Others ask for baby name submissions. And some people are just looking for free pizza.
Though not all these requests are indulged, often enough someone in the online community does satisfy a stranger's request -- usually without expecting anything in return.
What is it that would motivate someone to, say, give free pizza to a perfect stranger? That's the fascinating question a trio of researchers at Stanford University set out to answer.
For their case study, the researchers scoured requests on Reddit's Random Acts of Pizza forum, where everyone ranging from impoverished college students to the recently dumped can plead their case in an effort to convince anonymous users that they deserve a free pizza.
Analyzing the forum's 5,738 fulfilled pizza requests, the researchers identified three specific factors that seem to boost the chance that a request will be fulfilled:
Narrative: Requests that mentioned money problems, job struggles, and special occasions were most successful. Requests that expressed simply a craving for pizza were less successful.
Length: Long narratives were more likely to be successful--presumably, according to the scientists, because extra length allowed more room to explain difficult situations.

Reciprocity: Requests that expressed gratitude and a "willingness to give back to the community" were significantly more likely to be successful.
Here's an example of a successful request on Reddit. Note that it meets the criteria:
Feeling really really good right now. I've been at probably the lowest point of my life and have managed to crawl my way back into a really nice room in a shared house.

I'm suffering pretty badly from PTSD which kinda managed to wreck my life when it caused a really bad bout of depression that sucked all life out of me and basically accelerated my own life falling apart.

Things were looking pretty bleak, until a stray cat adopted me. Ended up falling in love with her. She's a huge sweetie.

With the sudden mouth to feed, I managed to get a hold of my doctor and have worked out a way into recovery. I'm now on short term disability, which has just now come in. I kinda thank this cat for miraculously showing up to even help me get the willpower together to get this far.

SADLY. All my current on hand cash went to paying my first month rent and deposit. I would really appreciate some pizza for the weekend.

I promise to pay this forward in any way I can, once next cheque comes in.

Edit: I forgot to say that I'm in Victoria, BC. Dominos has some -very- cheap online coupons [all sic].
On the flip side, here's a request that failed.:
I have lost faith in humankind. Do nice people still exist?
In their study, the researchers also identified another factor that seems to affect the success or failure of any particular request: Requests from Reddit users who have high seniority in the online community and who contribute to the community (such as with previous posts) tend to be more successful.
Though the study covers only online generosity, it may hold lessons about altruism in the real world and perhaps for those involved in philanthropy.

"We hope that practical implications are that if you understand what factors are important, maybe you set up a community in a way in which people help each other out effectively," study co-author Tim Althoff, told Fast Company. "What are the factors that are important that you should incorporate into your writing to be successful? You can also do that with automatic techniques, automatic tools that could that help you check your writing."
BEFORE YOU GO
PHOTO GALLERY
The Most Bizarre Scientific Experiments