Pharrell Williams is upping his style status once again. The "Happy" singer is gracing the special-edition cover of Elle UK's July issue.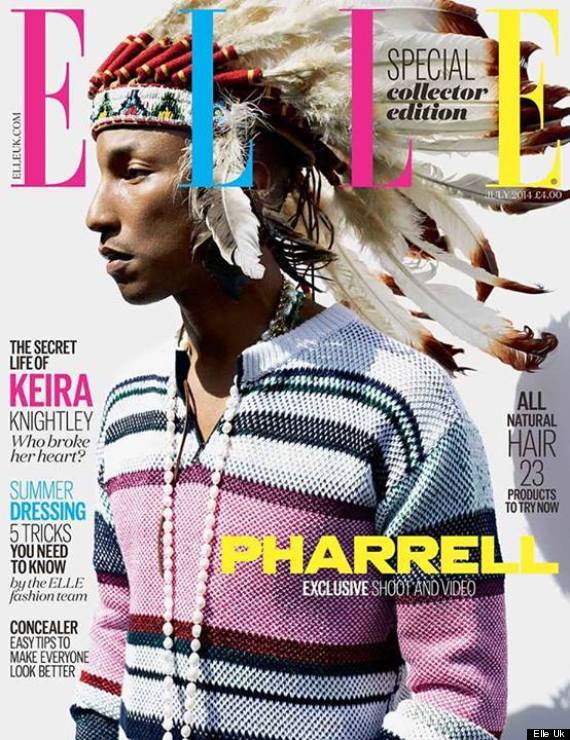 Pharrell ditched his omnipresent Vivienne Westwood mountie hat in favor of a native American feather headdress for the Doug Inglish photographed shoot. And while the image is definitely powerful, not everyone is pleased with the cover.
In fact, the Native American community and beyond are expressing their anger over the honored accessory's misappropriation via social media. Search the hashtag #NotHappy and you'll see just how pissed folks are. And some are calling for the 41-year-old musician and fashion glossy to issue an apology.
@Pharrell many are #nothappy with your magazine cover #elle #apologize #notyourheaddress #NotYourMascot #thanks

— Nicole (@VoiceNLove) June 4, 2014
No no no @ELLEmagazine No. My culture is not a costume or a hat. No. #NOThappy http://t.co/x7NbvQRjjZ

— gindaanis (@gindaanis) June 4, 2014
.@Pharrell - I'm a big fan, and I'm a Cherokee citizen. Disappointed to see you in a headdress on the @ELLEmagazine cover :( #nothappy

— Talia E. Myres (@jeepgirl77) June 4, 2014
You'd think Elle UK would have gotten the never-use-a-headdress-unless-you're-native-American memo after Chanel, Victoria's Secret and H&M were confronted with backlash for attempting to turn the American Indian headdress into a fashion statement.
UPDATE: Pharrell responded to the headdress controversy with an apology sent to Buzzfeed.

"I respect and honor every kind of race, background and culture. I am genuinely sorry," the artist and producer stated.
And for other examples of misguided fashion decisions...
BEFORE YOU GO
PHOTO GALLERY
Controversial Products