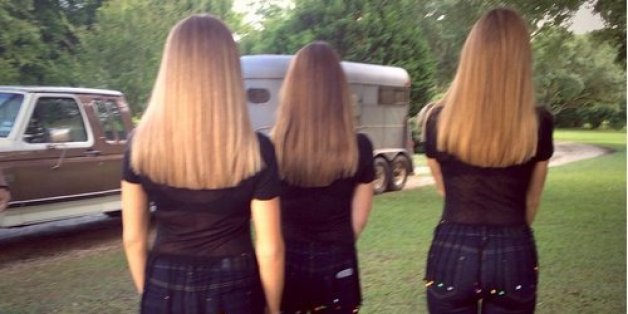 Do you have what it takes to recognize Sofía Vergara from behind?
The Colombian star is currently on set in New Orleans filming "Don't Mess With Texas," and it seems like she's made friends with two stunt doubles.
Vergara challenged her fans to guess "hehe wich [sic] one is me?" on Tuesday via Twitter and WhoSay.
The actress is taking advantage of her "Modern Family" hiatus to take part in the upcoming comedy about a police officer (Reese Witherspoon) who is on the run in Texas with the wife of a drug lord (Vergara).
"Don't Mess With Texas" is set to be released in 2015 and will be a big step up for the actress who has previously held mostly supportive roles film projects, most recently in "Chef" and "Fading Gigolo."
Fans did fairly well with the "Guess Who?" challenge and Vergara posted a second picture revealing which one was the real Sofía.
Late last month, Vergara also announced her split from fiancé Nick Loeb online to avoid having the press "invent crazy and hurtful drama."
"We have been having too many problems with figuring out how to spend time together and because of my work and now his, its been getting worse and worse. Not fun anymore," she wrote. "We are still very close but we believe it's the best thing for us right now."
BEFORE YOU GO
PHOTO GALLERY
Sofia Vergara Rocks Swimsuits