The evil genius behind the food blog Porn Burger -- evil because he makes ridiculously amazing burgers like the Pickle Back Burger and the Wake-N-Bake Burger that we can't stop thinking about -- has now brought us the greatest thing mornings have ever known: Cheeseburger Pop Tarts. Yes folks, flaky buttery crust and cheese-topped burger come together in what we are calling the "everything breakfast has ever wanted to be" meal.
Take a minute and look at this beauty.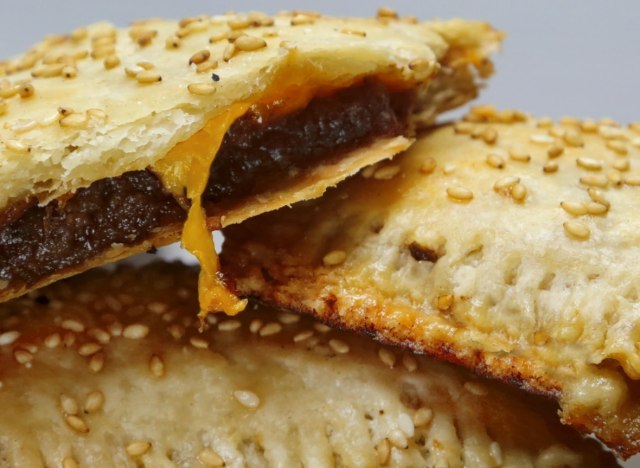 It's flaky; it's buttery; it's meaty; and it even has sesame seeds. BUT there's one major downfall to the Cheeseburger Pop Tart: Porn Burger has not given us a recipe. Looks like this food blogger might just be more evil than we had previously thought.
Porn Burger has dangled this amazing concoction in front of our eyes without a clue as to how we can get it into our mouths. But don't worry folks, we wouldn't leave you high and dry like that. We're going to help you get to the bottom of this recipe. We won't have step-by-step photos or specific proportions, but together we can make it happen. Are you ready, here we go...
Here's what you'll need: pie dough, sesame seeds, ground beef, cheddar cheese, bacon jam and salt for seasoning. Now, let's get to it.
First, prepare your dough. You can use store-bought pie dough or make your own. (It's really easy.) Be sure that the dough isn't sweetened -- we aren't making fruity Pop Tarts here, but BURGERS.
Roll out the dough to 1/4 thickness and cut it into rectangles about the size of your hand (or Pop Tart size). Depending on how much dough you start off with determines how many of these burgers you can make. But we can tell you that you'll need at least two rectangles of dough to make one Pop Tart.
Next, prepare the burgers. Take as much ground beef as you'd need to make about half a slider. Be modest here. You don't want the Pop Tart to burst open with burger. Rather, it should be gently holding your burger patty in its warm, doughy embrace. Season the portioned meat with salt and place it the center of one dough rectangle.
Top with an appropriate amount of cheese. Again, moderation. Too much cheese will make a melted mess. And, if you are up for it, add bacon jam. You can buy it here, or make it with the help of this recipe.
Place the second piece of dough on top of the burger-to-be madness. Crimp the edges together with a fork. Sprinkle sesame seeds on top and either bake at 350 for about 15 minutes. Enjoy and let us know how it goes.
Want to read more from HuffPost Taste? Follow us on Twitter, Facebook, Pinterest and Tumblr.
BEFORE YOU GO
PHOTO GALLERY
Burger Recipes