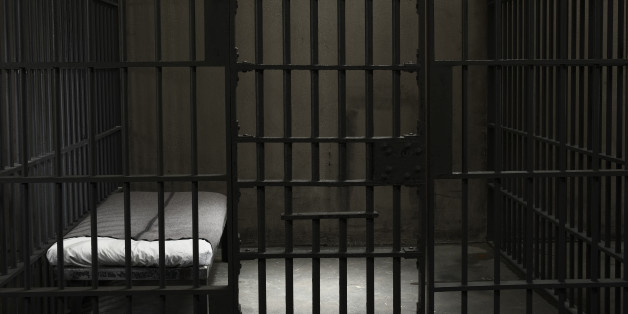 Support for the death penalty has declined. The Boston Globe will conduct a weekly tracking poll of the Massachusetts governor's race. And FiveThirtyEight is diving deep into burrito data. This is HuffPollster for Thursday, June 5, 2014.
SUPPORT FOR THE DEATH PENALTY TAPERS - Reid Wilson and Scott Clement: "A clear majority of Americans still support the death penalty for convicted murderers in the wake of Oklahoma's botched execution attempt in April, but the percentage who say they back capital punishment has fallen in recent years. Sixty percent of Americans say they favor the death penalty, a new Washington Post-ABC News poll shows, while 37 percent are opposed. That number is down from roughly two-thirds who supported it in polls from 2002-2006, and well below the 80 percent high-water mark for capital punishment in a 1994 survey. But for the first time in Post-ABC polling, more than half of Americans say they prefer life sentences for convicted murderers, rather than the death penalty. Fifty-two percent of those polled said they would choose life in prison, while 42 percent said they favored execution. Those attitudes have changed thanks to shifting opinions among non-whites, who favor life sentences over the death penalty by more than a 2-to-1 margin, 65 percent to 28 percent. Eight years ago, non-whites favored life terms by 55 percent to 41 percent." [WashPost]
BOSTON GLOBE TO POLL WEEKLY: As part of a new weekly section and companion web site on Massachusetts politics called "Capital," the Boston Globe will be conducting a weekly poll of the Commonwealth's voters. Boston Globe press release: "The Globe has partnered with Cambridge-based SocialSphere, a public opinion research and social media analytics company, to administer its polling and identify and analyze online influencers. Every week until the general election in November, Capital will present the results of a poll on a major issue, using infographics to tell the story. SocialSphere's CEO, John Della Volpe, is also the Director of Polling at Harvard's Institute of Politics."
Weekly tracking conducted with live interviewers - "It's a really exciting opportunity, and I'm really excited to be part of it," Della Volpe tells HuffPollster. He explains that SocialSphere will use live interviewers to call the households of registered voters drawn randomly from officials registration lists. They will reach voters on both landline and cell telephone phones since, Della Volpe explains, approximately 20 percent of the phone numbers on the voter file are for mobile phones. After selecting a random adult in each household, they plan to use a "relatively straightforward screen" (rather than actual vote history) to narrow to likely voters. Following an initial release based on 600 interviews conducted over the past week, they plan to call 300 general voters per week, reporting on a rolling average of the last 600 interviews. Since just over half of those interviews will reach Democratic primary voters, according to Della Volpe's estimate, they will also report at regular intervals on gubernatorial primary vote preferences. Each week's survey will also feature in-depth measurement of a "key issue." Finally, Della Volpe explains,, the project will involves a social media component, including parallel snapshots of the political conversations in Massachusetts are on Twitter.
SocialSphere also polls for Politico - DellaVolpe's Massachusetts based SocialSphere is also the pollster that conducted Politico's recent online poll of voters in competitive U.S. House and Senate races using the GfK Knowledge Panel. [Politico]
AMERICANS DIVIDED OVER BERGDAHL DEAL - Emily Swanson: "A new HuffPost/YouGov poll has found that Americans are slightly more likely to disapprove than approve of the recently negotiated prisoner exchange that released Sgt. Bowe Bergdahl over the weekend, and that, more generally, there is little support for swapping potentially dangerous prisoners for American prisoners of war. But the survey also suggests that the revelation of further details about the circumstances of Bergdahl's capture could play a major role in how the public comes to see the deal over time. Thirty-five percent of Americans in the new poll said they approve, and 39 percent said they disapprove of the deal that freed Bergdahl, while another 26 percent said they weren't sure. The poll shows a partisan divide over the deal. Democrats were largely in support, by a 48 percent to 19 percent margin, while Republicans opposed it by a 61 percent to 26 percent margin. Independents also tended to be opposed, 41 percent to 30 percent." [HuffPost]
MAJORITY SUPPORT FOR GOVERNMENT POLLUTION CONTROL NARROWS - Frank Newport: "More than six in 10 Americans favor setting higher emissions and pollution standards for business and industry, and imposing mandatory controls on carbon dioxide emissions and other greenhouse gases. The percentages favoring these actions, however, are lower than in 2007 and prior years." [Gallup]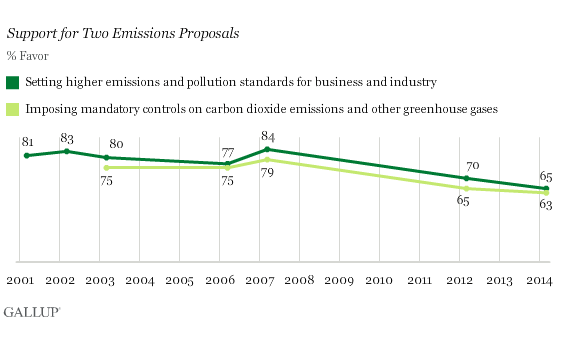 POLITICO ASKED, SO... Via Twitter, Politico's Campaigns and Elections editor Steven Shepard says he is "Looking forward to @MysteryPollster's takedown of the 'expanding" headline in today's HuffPollster newsletter. " [@POLITICO_Steve]
Here's the headline... featured on the House Majority PAC (D) website:

...and here are the first two paragraphs (emphasis added): "The House Majority PAC today announced the results of its latest tracking poll in West Virginia's 3rd Congressional District showing Congressman Nick Rahall leading his challenger, Evan Jenkins, 52-39. This is a one-point gain for Rahall from our April tracking poll, which had Rahall winning 52-40. Conducted May 26-28 by Fred Yang of Garin-Hart-Yang Research Group, this live-call poll surveyed 403 likely voters. This poll has a margin of error of +/-5%. " [House Majority PAC]
Nope. Not 'expanding' - While these two polls certainly show Rahall leading, we hope we don't need to explain why a one-point difference measured for one candidate's support is virtually meaningless. Hint: re-read that part about margin of error.
HUFFPOLLSTER VIA EMAIL! - You can receive this daily update every weekday via email! Just click here, enter your email address, and click "sign up." That's all there is to it (and you can unsubscribe anytime).
THURSDAY'S 'OUTLIERS' - Links to the best of news at the intersection of polling, politics and political data:
-Megan Thee-Brenan speculates about why some people hate taking surveys, and calls for more transparency. [NYT]
-Jonathan Bernstein pushes back on the forecasts of the 2014 election prediction models. [Bloomberg]
-Pew Research looks at the rise in stay-at-home fathers. [Pew]
-Harry Enten doubts we can crown a favorite in the Mississippi Republican runoff election for U.S. Senate. [538]
-Ed Kilgore disagrees, arguing that Chris McDaniel is the Mississippi runoff favorite. [Washington Monthly]
-Patrick Murray sees evidence of ballot position effects in New Jersey's recent Republican primary for U.S. Senate. [MonmouthPoll]
-Elizabeth Wilner tracks anti-Obama ads in state races. [Cook Political]
-How the recession reshaped the economy, in 255 charts. [NYTimes]
-Andrew Gelman reviews the flap over a recent study suggesting hurricanes with female names are seen as less threatening than those with male names. [WashPost]
-APSA releases video of their May 28 panel on election forecasting featuring Matt Dickenson, Michael Lewis-Beck, Drew Linzer, and Mary Stegmaier, Lynn Vavreck and HuffPollster. [APSA]
-Nate Silver and Anna Barry-Jester launch a three-phase, empirical search for the nation's best burrito. [538]