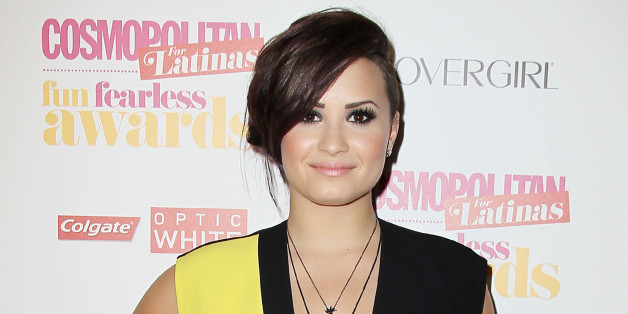 NEW YORK -- Illuminated only by the fluorescent glow of the newsroom outside, Demi Lovato, 21, sat attentively in a dim office inside the Hearst Tower as dozens awaited to honor her upstairs at Cosmopolitan For Latinas' Fun, Fearless Awards on Wednesday night.
Wearing a striking black and yellow minidress and debuting a shorter and deep purple hairdo, the "Neon Lights" singer fiddled with her metallic clutch as she chatted with The Huffington Post about her own Latina role models, her "huge pipe dream" and why she's so proud of her heritage.
Lovato graced the cover of Cosmo For Latinas' May issue and was chosen to receive this year's top honor, the "Fun, Fearless Latina of the Year" award. Michelle Mulligan, the magazine's editor in chief, called Lovato "the ultimate resilient Latina" who has found strength in her past struggles and now raises her voice to help others.
While the star may be a role model to many today, she had her own influences growing up. Lovato was only 2 when Selena Quintanilla, the singer known as "the Queen of Tejano music," was murdered in 1995, but that didn't stop Lovato from cherishing the Tex-Mex artist she would eventually consider an inspiration.
"Growing up, I loved Selena's music [...] I was really young when she passed, so I didn't know much about her until I got a little older, and when I saw the movie there was just some sort of connection," Lovato said, referring to the 1997 biographical film starring Jennifer Lopez. "Even my dad is totally like the dad in the movie, it's just so similar. There is something about the movie that was really inspiring to me. After that, you know, the songs are great, even though I don't know what the words are. I'm learning Spanish, but I don't know it fluently yet."
Despite the language barrier, Lovato told HuffPost, her identity as a Latina is important to her.
"I'm really proud of [my heritage], especially the way that the Latin community is kind of taking over and rising above politically," she said. "Even though I don't speak fluent Spanish, I love singing in Spanish. I love being able to represent the curvy sassiness of a Latina woman. It's just a part of who I am, and I couldn't be more proud to represent that."
As to whether the entertainment industry will continue to grow more diverse, Lovato said it's not only necessary, but inevitable.
"With that, I feel we could use more of it, definitely. We're taking over, so it's just a matter of time, especially in California," the star added with a smirk. "It's exciting to see a younger demographic, [stars like] Bella Thorne, Selena [Gomez] and I -- it's exciting to see the younger generation embracing their culture."
Lovato, who recently returned from the second leg of her "Neon Lights Tour" in Latin America, said her fans in that region have something that sets them apart.
"My favorite part of Latin America? I don't have a favorite, I can't say a favorite, but I will say that my fans are so passionate down there and that it's extremely inspiring," Lovato said. "I'm always so excited to go back, and it makes me feel happy to see the enthusiasm that my fans have when I'm there."
Demi will embark on a world tour in September and has already announced her North American dates. Music may be her first love, but in the May issue of Cosmopolitan For Latinas, the singer revealed that she also hopes to win an Oscar someday.
"I think it's a huge pipe dream, and it'll probably never happen, because I only spend my time working on music," she said with a laugh. "But, you know, you can never dream too big. Even if it was just for Best Original Song or something. I did actually sing 'Let It Go' -- I didn't win the Oscar, [but] that was exciting. It made me realize, 'Oh, maybe you don't have to do a movie to win an Oscar.' So it's a goal of mine, definitely."
Later that evening, while accepting her award, Lovato mentioned another goal: She plans to continue her work to raise awareness of mental illness, something that has affected both her and her late father. Lovato told the crowd that public speaking makes her nervous, but added that she'll have to get used to it.
By the end of her speech, though, she seemed to gave gained control of her nerves, telling the audience that the reason she had the courage to raise her voice at all was "because I have the passion of being Latin inside me."

BEFORE YOU GO
PHOTO GALLERY
No Makeup, Still Gorgeous!