If you haven't seen the latest World Cup posters commissioned by ESPN and illustrated by Brazilian graphic artist Cristiano Siqueira, you're seriously missing out. The bold, color-saturated images are beautifully rendered and feature well-known players from all 32 teams who will be playing in the World Cup, along with the team nicknames each squad is known as in the "football" world.
There's just one problem: The only word used in the Greece poster is misspelled.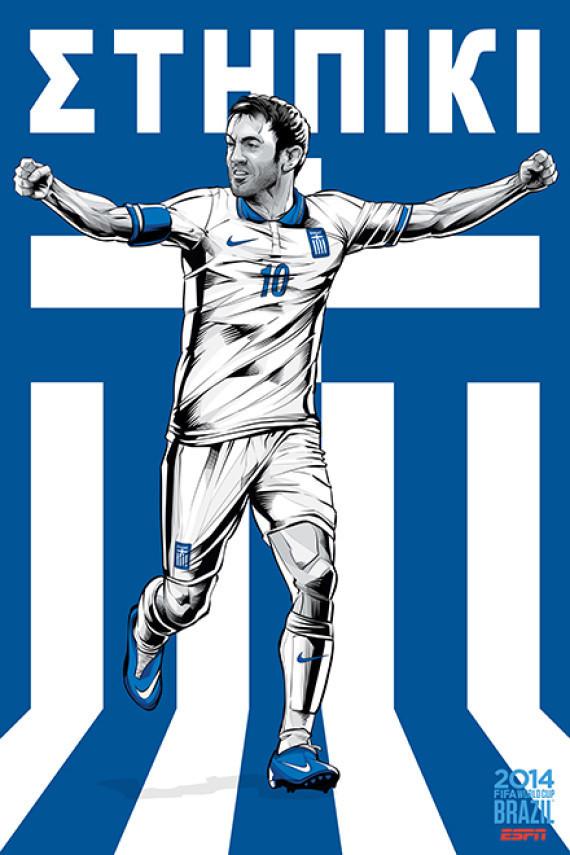 Aiming to communicate the Greek word "ethniki" -- which translates to "national" -- across the top of the poster, whomever ESPN put in charge of lettering misused the letters in the Greek alphabet and ended up with something else entirely. Correctly using the Greek alphabet, "ethniki" should be spelled "ΕΘΝΙΚΗ." Yet, ESPN's poster used Greek letters to spell it out as "ΣΤΗΠΙΚΙ"... which is not a word.
In an email to The Huffington Post, Siqueira stated that he was not responsible for lettering the World Cup posters as part of his illustrative project for ESPN.
"I didn't work at the lettering of the posters, I shared the creation of the poster design with other professionals hired by ESPN, my job was to create the illustrations of the players, background elements and the overall design, but the lettering, I didn't touch," said Siqueira.
A representative for ESPN told The Huffington Post that the "writing in the poster was created by hand," and that "it features an artistic interpretation of the Greek alphabet adapted to so as to be read as an English word."
That explanation clears up some of the confusion but some speakers of the Greek language are clearly not thrilled with the choice, with some suggesting that ESPN should have hired a spellchecker. Meanwhile, the poster is making headlines abroad, and rounds of commentators continue to point out the so-called "mistake" stateside as well.
BEFORE YOU GO
PHOTO GALLERY
Brazil World Cup 2014 Official Host City Posters